Security guard. £1 an hour. Bring own dog.
Centre for Employment Relations, Innovation and Change
Work and Employment Relations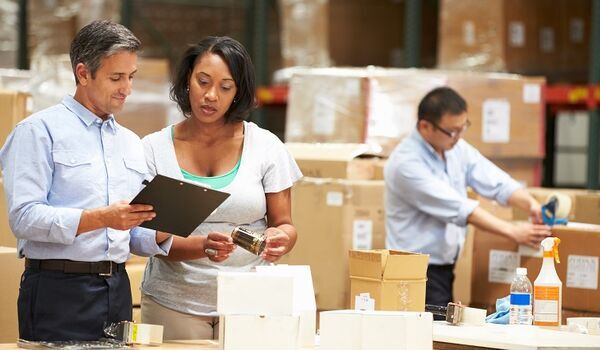 There's a series of great books called 'A very short, fairly interesting and reasonably cheap book about…' that take a fun, example-driven and research-focussed approach to key issues and debates in a variety of fields. As a longstanding fan of the series, I was delighted when I was invited to write one on Human Resource Management (HRM).
The reason why this style of book is so important is that you can't talk about work and employment in general terms, you've got to give examples. Readers need to know the facts using real world cases, for instance:
How much was an employee paid?
If someone is treated badly, what does that treatment consist of?
If they're treated well, what does that treatment consist of?
What sort of training do employees receive?
What is service work, and what is it like?
HRM: theory, strategy, skills and training
The book starts by explaining what HRM is, so in essence the first chapter is the theory chapter but this shouldn't be a daunting prospect. HRM textbooks can often be written entirely from an employer perspective - in industrial relations, theorists use the terms unitarism, pluralism and radicalism, and these are simply different ways of looking at work. What I wanted to do with this book is ensure that it was relatable and included information from the employees' as well as the employers' perspective.
The book continues by taking a look at HRM and its links to strategy. HRM strategy is where a company creates a long-term plan for its employees in order to achieve their company objectives. There are all sorts of ways a company can drive its HRM strategy and the literature differs radically on what these are. You can devise an HRM strategy that in essence exploits your workforce by paying them as little as possible and providing as few perks as possible, ensuring that your financial interests are best served. Or in contrast, you can develop a strategy that puts the focus on employee wellbeing whereby treating the workforce extremely well becomes a core business objective.
The next chapter look at skills and training. As an expert on work and skills, I wanted to focus on skills and training, rather than simply training. This is because I believe it is important (and interesting) to look beyond the two weeks or so people spend on a training course. Employers also need to be mindful of how employees incorporate these new or developed skills into their work. Workforce skills and training should dictate how work is designed, what sort of work is done, and how it is controlled. This chapter delves into how individuals are trained, prepared and developed for their work.
HRM: pay, flexibility and voice
Chapter four deals with pay and looks at high pay, executive pay, and performance-related pay - the areas that HRM textbooks commonly focus on. It also, more unusually, looks at low pay and the national minimum wage. Approximately 20% of the working population in the UK fall into the category of low paid, so it is incredibly important to think of low pay and the effect it has on people. One example often used by Professor Sir George Bain, chair of the low pay commission into the national minimum wage before it was introduced in 1998, was a job advert for a security guard, for £1 an hour, who had to bring their own dog. This was just one example of the many unfair scenarios that the national minimum wage was brought in to stop.
Flexibility in work is the focus of the next chapter. Flexible working is hugely important for many, but company flexibility policies can be used to both the advantage and disadvantage its employees. This chapter looks at both. In chapter six we consider employees' voice – the way that employees are involved or can participate in decision-making. Employee voice initiatives can work extremely well and companies can really engage with their workforce through this method, but it can also be introduced fantastically badly.
A kettle factory full of hot air
There's one example of a kettle factory that introduced an employee voice initiative and encouraged employees to make comments on their work environment. At the factory, employees were paid a bonus if production was high, so an effective manufacturing system was vital if bonuses were to be paid. The workers quickly noticed a flaw the way a new kettle had been designed, which meant that the kettle was harder to assemble so the workers could not meet quality or production targets, meaning no employees were earning their bonuses. So, as had been advised, the workers all complained through the employee voice channels. Nothing happened so the employees raised this again. And again. Management then revealed that it was only possible to redesign a product in a narrow two-week window at the start of the process. None of the feedback they had encouraged would ever be put into practice and employee suggestions had simply been quietly discarded. Bonuses were not paid and the system which was supposed to encourage employees to contribute was exposed.
The reason behind including this example in the book is to demonstrate that there are ways of setting up employee voice channels very positively, so you get input and listen to employees, but there are also ways of setting up a system where employees think that someone is listening, but no one actually is - as was the case at the kettle factory. Understandably, the latter scenario tends to create an awful lot of workforce frustration, rather than anything productive.
Service sector and the future of work
The next chapter looks at service work, which is a hugely important area. The service sector includes work in:
Wholesale and retail trade
Restaurants and hotels
Transport
Storage
Communications
Financing
Insurance
Real estate
Business services
Community, social and personal services.
Nearly 80% of the working population in England and Wales are employed in the service sector but it is an area that until very recently had been widely ignored in the literature. In 2017, almost 92% of the UK services workforce was female. It's also the sector where most part-time jobs are located. The chapter also highlights emotional labour and how employees can work with their emotions.
The final chapter is short and contains speculation on the future of work. Often when HRM authors speculate on what's going to happen in the future, they say it's all going to be marvellous, fantastic, great! But I didn't want to do that. What I wanted to do was speculate using evidence and try and think about what things could change in the future, such as new ways of working and new technologies, but also what might stay the same. One aspect of HRM I think will very much stay the same is that employment will continue to be about both conflict and co-operation. Because of the difficulties in getting HRM right, the relationship between employees and employers will remain a fascinating area of research.
Written with students in mind
This book was primarily written for students, particularly for my students. I hope they enjoy it, engage with it and that it brings the subject of HRM to life. Rather unusually, I hope they are going to disagree with some parts of the book, and this will inspire debate and discussion. One of the really nice things about this book is its length. Students should be able to find the time to read this book and really impress their tutors without putting in the vast amount of effort required to tackle an enormous handbook. Enjoy!
A Very Short, Fairly Interesting and Reasonably Cheap Book About Human Resource Management.
The views expressed in this article are those of the author and may not reflect the views of Leeds University Business School or the University of Leeds.