How to get the most from a mentoring relationship: four of our graduates share their advice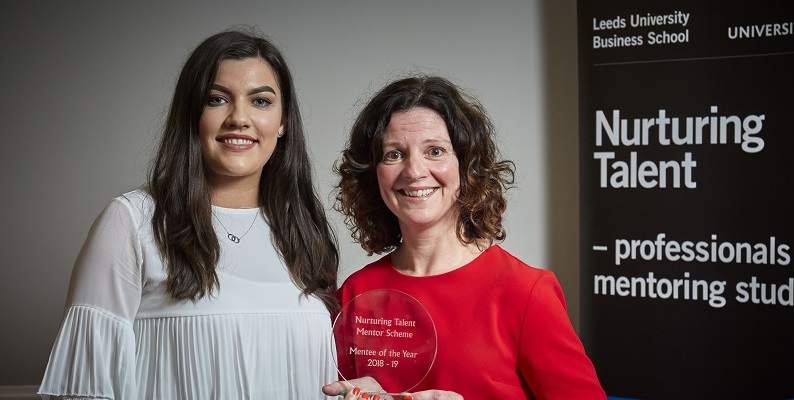 Whether you're a student, an academic, or a business professional, a mentor can be an invaluable source of support as you navigate your career.
We asked four recent graduates from the management division for their tips on how to get the most from a mentoring relationship.
When they were students, all four were mentees on Leeds University Business School's Nurturing Talent Mentor Scheme, which connects undergraduate students with professionals from industry.
Here are Rachel, Lucy, Josh and Becky's top tips.
1. Set some clear goals and expectations
Rachel Houghton graduated with a degree in Management in 2019, and is now graduate delivery resource manager at Amazon. Her first tip is to have clear goals, objectives and expectations from the beginning.
"Outlining these with your mentor in the initial stages of your relationship will enable you to organise future meetings and opportunities with a direct purpose with anticipated outcomes."
This advice is echoed by Josh Irish, a management consultant at PwC and graduate in Geography and Management.
"I would first take the time to reflect on what your strongest interests are, what type of guidance you would like and how you would like that help. It's the best way to ensure you have a lasting relationship that will suit you even after you've moved on from your current position, and one that hits the ground running."
2. Preparation is key
Recent management graduates Becky Large, now a recruitment consultant with Hays, and Lucy Walsh, brand specialist at Amazon, both suggest that preparing for the meetings with your mentor is key to making sure you maximize your mentoring relationship.
Before each meeting with her mentor, Becky would think about certain areas she wanted to discuss or things she needed help with, such as improving her CV. "This would mean we could come up with an effective action plan during our meeting, which I could take away and put into practice. Then when it came to our next meeting or phone call, I would review my previous notes to see what I had achieved and what I needed further help on. Getting into this habit ensures you take a proactive approach throughout and enables you to document your progress."
Lucy adds: "Make sure you have a rough plan of what you want to go over in face to face meetings. This helps you to know what you want to discuss, but also what you have achieved each meeting and how much progress you are making from having the mentor. I found having a mentor so useful for advice on careers, next steps and applications so these were often topics of our meetings."
3. Keep in regular contact
Try to keep in contact with your mentor on a regular basis – even between face to face meetings. Lucy checked in with her mentor via email every now and again so that she maintained the relationship and kept thinking about how they could help her further development.
Josh suggests reaching out to your mentor rather than waiting for them to reach out to you. Although this may be daunting at first, it's likely you'll find that this will also empower your mentor to reach back out to you more often in turn – helping to maintain a balanced and flowing relationship.
4. Have an open, inquisitive outlook
Bringing an open outlook to the experience is important too. Rachel's top tips are:
Be curious: "Ultimately, your mentor can only share their knowledge and network if you ask questions, initiate discussions and take the initiative."
Say YES to new opportunities. "Your personal development and confidence will only grow if you push yourself out of your comfort zone."
5. When the mentoring period comes to an end, keep in touch
The mentoring relationship doesn't have to end when the official mentoring period comes to a close. It is a relationship that can support you throughout your career. Josh's experience highlights the benefits of keeping in touch:
"Towards the end of your mentoring relationship, see if there is a way you can maintain them as a contact e.g. on a professional network, such as LinkedIn. For instance, I've recently started working with my previous university mentor, around five years after meeting, and arguably we have even more to discuss and learn from each other now!"
All four of the recent graduates who have given us their advice here are – or are planning to become – mentors themselves to new students joining the Nurturing Talent Mentor Scheme. Proof of the positive experience they had as mentees, and a great reason to take their advice!