Seminar on Trade, Investment & Sustainable Development Goals in Bangladesh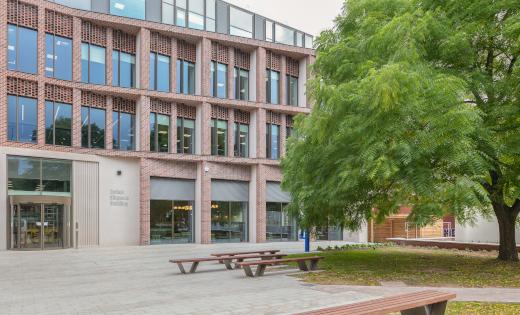 Date: Thursday 9 March 2023, 15:00 – 18:00
Location: Esther Simpson Building 1.01
Cost: Free
JEL India & South Asia Business Centre of the University of Leeds is delighted to invite you to the seminar on Trade, Investment and Sustainable Development Goals (SDGs) in Bangladesh.
The seminar will bring together business leaders, Government officials, entrepreneurs, Diasporas, policymakers, academia, students and professionals from across Leeds, Yorkshire and the United Kingdom to highlight Bangladesh's trade and investment opportunities for both local, regional and international businesses and investors. The seminar will also focus on the progress towards achieving Sustainable development Goals (SDGs) in Bangladesh.
The keynote speaker of the seminar is Her Excellency Saida Muna Tasneem, High Commissioner of Bangladesh to the UK & Ireland.
The event is hosted in conjunction with the Bangladesh High Commission London, JEL India & South Asia Business Centre and the International Business Department of Leeds University Business School, University of Leeds, UK.
About the Keynote Speaker:
Her Excellency Ms Saida Muna Tasneem
Bangladesh High Commissioner to the UK, Ireland and Liberia
Ms Saida Muna Tasneem joined as High Commissioner for Bangladesh to the Court of St. James on 30th November 2018 and is also accredited as Ambassador of Bangladesh to the Republic of Ireland. She is Bangladesh's Permanent Representative to the International Maritime Organisation and a Board of Governor member of the Commonwealth. Prior to taking up her assignment in London, Ms Tasneem served as Bangladesh Ambassador to the Kingdom of Thailand with concurrent accreditation as Bangladesh Ambassador to Cambodia and as Bangladesh's Permanent Representative to the UNESCAP from 2014-2018.
High Commissioner Tasneem has been championing mental health and well-being as well as Autism Spectrum and Neuro-Developmental Disorder (ASD and DD) issues for the past decade at the Commonwealth, the COP26, the Climate Vulnerable Forum, the UNESCAP and UN General Assembly. With Tasneem's relentless initiative and leadership as a Commonwealth Board of Governor member, Bangladesh organized with Commonwealth Chair Rwanda, the first Commonwealth high-level side event "Rethinking Mental Health: A Commonwealth Call to Support, Care and Transform'' at the Kigali CHOGM 2022 and incorporated mental health into Commonwealth's agenda.
At present, she is actively engaged with the HM King Charles' British Asian Trust's mental health work in Bangladesh and also with HM The Queen Consort mentored mental health organisations in the UK. Tasneem also led deliberations at COP26 on behalf of Bangladesh's CVF Presidency on mental health aspects of victims of climate vulnerability at the Chatom House and Imperial College podcasts.
For questions related to the event, please contact the Director of the JEL India & South Asia Business Centre, Professor Mohammad Faisal Ahammad.