Leeds alumnus Andrew Seaton gives the 2021 Business Confucius Institute Annual Lecture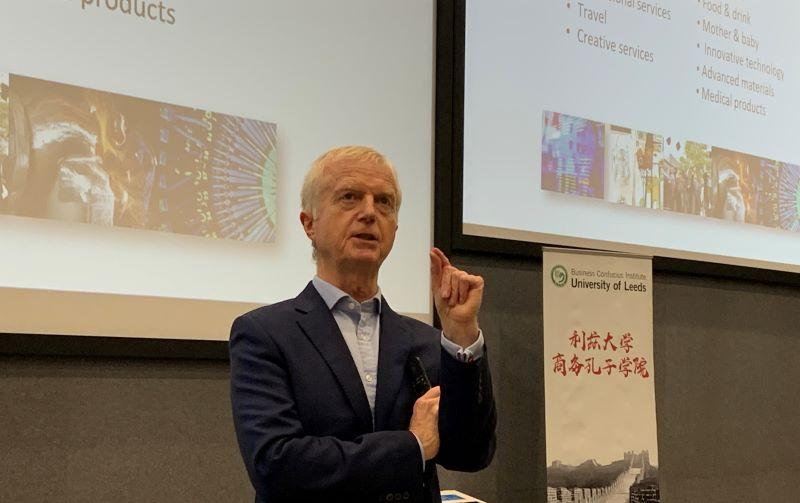 Returning to Leeds to give the Business Confucius Institute Annual Lecture, Andrew shared some of the extensive knowledge he has gained since graduating here in Chinese Studies over 40 years ago.
Students, staff and guests gathered in the Leeds University Business School's new Esther Simpson building on 24 November to hear Leeds alumnus Andrew Seaton share his insights into the prospects and challenges for UK-China economic and business cooperation.
Now Chief-Executive of the China-Britain Business Council (CBBC), Andrew has also been Executive Director of the British Chamber of Commerce in Hong Kong and held various high-profile roles in the UK Diplomatic Service working on UK-China relations.
"China is an inescapable fact"
The overriding message throughout the lecture, underlined by the facts and figures shown on the slides, is that China is too important to ignore.
As we all saw during the pandemic, with China at the centre of global supply chains, "China has become an absolute lynchpin in the world economic system" and is a dominant trading partner "for big swathes of the world."
UK-China trade
This also applies to the UK. Andrew drew attention to the fact that in the last ten years, the UK's total exports to China have increased 10 times (from £2 billion to £25.4 billion).
This trend looks set to continue. According to the Department for International Trade, the biggest export opportunity in the coming decade is Asia – and China is the largest slice of that market.
Barriers to trade have reduced, and as consumer demand in China shifts and matures "there is huge consumer demand for the kind of goods the UK can produce."
Chinese consumers now want their purchases to express their identity as an individual, and are also increasingly concerned about authenticity and sustainability.
Andrew highlighted various sectors where the UK is well-placed to provide goods and services in high-demand in China. On example is financial and professional services; as for a population that is growing older and more affluent, investments and wealth management are increasingly important concerns.
"Not just for the big guys"
While we do have multinationals with huge China operations, China is not only for big business. Andrew highlighted small companies that have found their niche in the Chinese market and transformed their business.
In addition to help from the CBBC, smaller companies benefit from the various digital platforms that now make it easier to sell to China.
Online opportunities
Recognising that it could be an entire separate discussion by itself, Andrew couldn't ignore digital life in China – describing it as "at a whole new level". The country has over 900 million internet users, almost exclusively mobile.
Digital payments have usurped cash even for buskers, market traders and taxi drivers… and this was before the pandemic accelerated this trend worldwide.
Andrew noted that the division between the "Chinese intranet" and "global internet" is widening – so "you have got to be on those Chinese internet platforms."
Challenges
With growth slowing down China will not be able to "grow through problems" as easily. Moving from hard infrastructure like high speed rail to soft infrastructure like health and savings is a difficult and slow process.
In Andrew's personal view, the biggest issue China is facing is demography and he observed that stalling population growth and an ageing population will have economic and political consequences.
"There's more to come"
With China still classed as middle-income and many citizens yet to be lifted out of poverty, Andrew believes that China will continue to offer opportunities.
His concluding remarks to all, but particularly directed at students considering their futures, is that China is too important to ignore and will "be looming pretty big in whichever sphere you're in"
You can't not engage – the only question is how you engage.
The questions from the audience suggested that those in attendance are considering their part in shaping this future at a University, regional and national level.
Find out about the latest events from the Confucius Institute.