Dr Steve King visits Thailand and Vietnam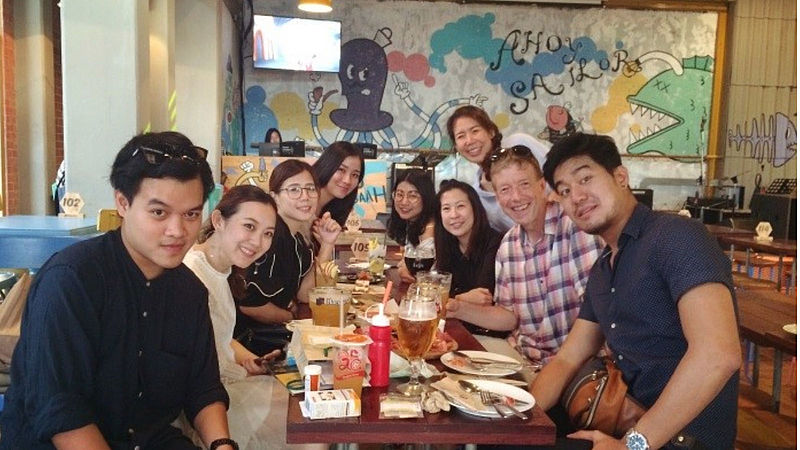 In July and August 2017 MSc Enterprise programme director Dr Steve King travelled to Thailand and Vietnam. During his time there, he met up with a number of alumni of the programme.
Here is his story:
The visit began in Bangkok, where I was collected from the airport by Ratawan Tanadumrongsak "Chin" (MSc Enterprise 2014). He gave me a tour of the sights, including some of the beautiful giant Buddha images such as the one at Wat Pho temple. The next day we were joined by Saranya Laoaraya (MSc Enterprise 2015), Methika Thanaviroj "Pang"(MSc Enterprise 2015), Nuttamone Chai-Anuruks "Fang" (MSc Enterprise 2014), Anuree Klin-Ngam "Tig" (MSc Enterprise 2015) and Voravat Lertsakdumrongkul "Pop" (MSc Enterprise 2014).
We had exclusive use of a driver and vehicle from Chin's family firm who drove us out to the historic capital of Ayuthaya for the day, in air-conditioned luxury (thank goodness – it was hot!). The ancient city is blessed with many historic sites such as the temple grounds, plus, of course, some obligatory coconut eating opportunities!
The next day we were joined by an alumnus from the 2016 graduating class, Tawanrat Rujirawannakorn "Toon", who joined us at Jim Thompson's House. The museum was dedicated to the Thai buildings and artefacts collected by American architect Jim Thompson.
After this we moved on to the magnificent Grand Palace. By now it was very hot and the palace was very busy – there were long queues of mourners dressed in black waiting to pay their respects to the recently deceased King. The palace comprises of many elaborate temples and is simply breath-taking to experience.
The visit to Bangkok ended, naturally, in a live music bar by the river as we all said goodbye after a wonderful weekend. From 2014, Chin has just finished working for an international drinks company and is planning on setting up her first business venture. Fang is working in marketing for a major petroleum company. Pop is a manager in the family auto accessories business, and is currently focusing on sales in the rapidly growing Myanmar market.
From 2015, Saranya is managing in her family hotel and gas station business. Pang has just been promoted to be a performance lead in an online advertising agency. Tig has set up her own pharmacy and healthy food shop, which is growing nicely.
Toon, who graduated in 2016 is working for her family clothing business, which is also growing fast.
Later in the month I visited Vietnam and caught up with Kim Anh Pham (MSc Enterprise 2016) in Ho Chi Minh City (Saigon). Kim Anh showed my wife and I around the city. We ended the evening with drinks at the famous Rex Hotel cocktail bar – a popular haunt for America journalists during the Vietnam War. At this point a tremendous lightning storm erupted over the city creating a dramatic backdrop to the cocktails! Kim Anh has resumed her former career in finance and is working for an international investment bank in the city.
All alumni have fond memories of their time in Leeds and the friendships, confidence and international perspective they developed here. It was great to catch up with them all and to see how the next stages of their lives and careers are unfolding.