Writing, publishing and disseminating Creative Industries Entrepreneurship research
Centre for Enterprise and Entrepreneurship Studies
Creative Industries Entrepreneurship (CIE) scholars conduct research in one of the key sectors in the British economy. The creative industries - including film, TV, music, fashion and design, arts, architecture, publishing, advertising, video games and crafts - spur innovation and boost productivity, giving the nation an international competitive advantage.
The Special Interest Group (SIG) of the Creative Industries Entrepreneurship research, aims to build on the position of the Institute for Small Business and Entrepreneurship (ISBE) within the wider creative industries research field, giving the research community a space to receive constructive feedback to develop research ideas, disseminate publications and encourage the CIE tract at the ISBE conference (taking place in Newcastle in November 2019) to thrive. Dr Charlotte Carey from the Entrepreneurship Research Cluster at Birmingham City University and I lead the SIG.
To support researchers within this field we hosted a 'Writing, Publishing and Disseminating Creative Industries Entrepreneurship Research' event at the University of Leeds on Monday 16 September 2019.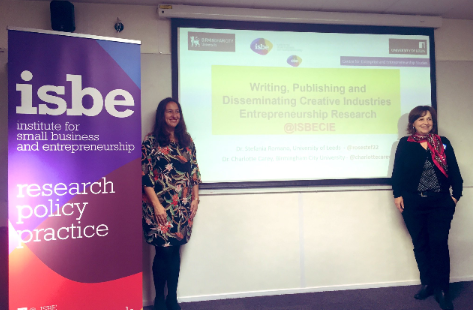 The event was targeted at postgraduate researchers, early career and mid-career researchers, and anyone with an interest in writing and publishing research in the field of creative industries, creative industries entrepreneurship, and cultural industries. We hoped to share knowledge and good practices among researchers and asked different types of speakers to be involved in the event to give the audience a variety of perspectives and experiences.
Key comments made from speakers on the day
Create a reputation around your area of research
Writing beautifully and convincingly requires practice and takes time
Educational papers are increasingly well-accepted within the community.
Collaborations, especially interdisciplinary ones, are important to break new boundaries and create the opportunity to work with leaders in the field
Keep working on collaborating even if sometimes you have negative experiences; find people who really value your contribution
By linking the findings of your previous research paper to your current paper you continue an academic conversation and set up the agenda and path you want to follow with your work.
It is important to apply for grants and to collaborate internationally
Small grants help you to raise your research profile; they lead you to medium and large grants.
Be passionate about your research topics and be aware of the Research Excellence Framework (REF)
If you are writing a paper and making it perfect seems overwhelming 'Don't get it right, get it written'.
Bec Evans delivered a practical workshop in the afternoon about making time to write and how to overcome blocks and stay motivated to keep writing.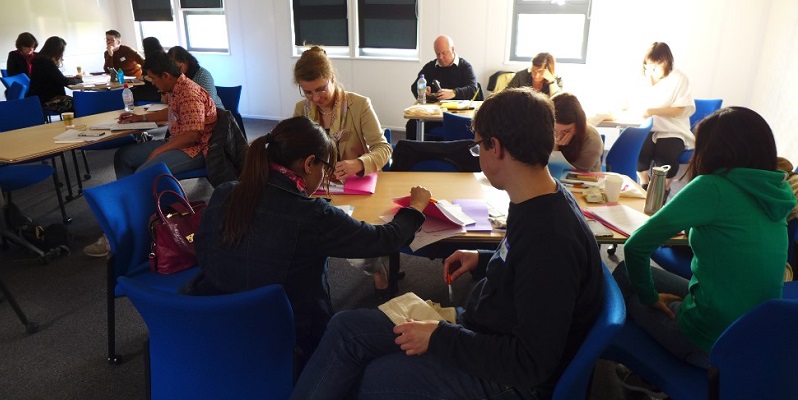 Future activities
The event was a success and we were pleased to receive positive feedback via social media from the guest speakers, the participants and the ISBE community.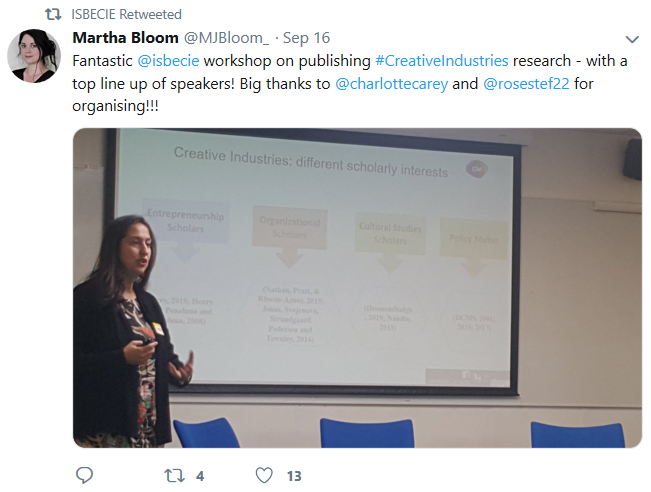 Building on the success of this event, we are planning:
to meet the community at the next ISBE conference in Newcastle this year
to create a Special Issue
to engage with other research communities to create opportunities for collaborations, knowledge production and research.
If you would like to join our SIG please register online. You can also keep up-to-date with our activities by following us on Twitter: @ISBECIE.
Thank you to all the participants, the organisers and the people involved in the event who, behind the scenes, have supported, encouraged and guided us to make it a powerful learning experience.
Contact us
If you would like to get in touch regarding any of these blog entries, or are interested in contributing to the blog, please contact:
Email: research.lubs@leeds.ac.ukPhone: +44 (0)113 343 8754
Click here to view our privacy statement
The views expressed in this article are those of the author and may not reflect the views of Leeds University Business School or the University of Leeds.