Nurturing Talent Mentor Scheme 2019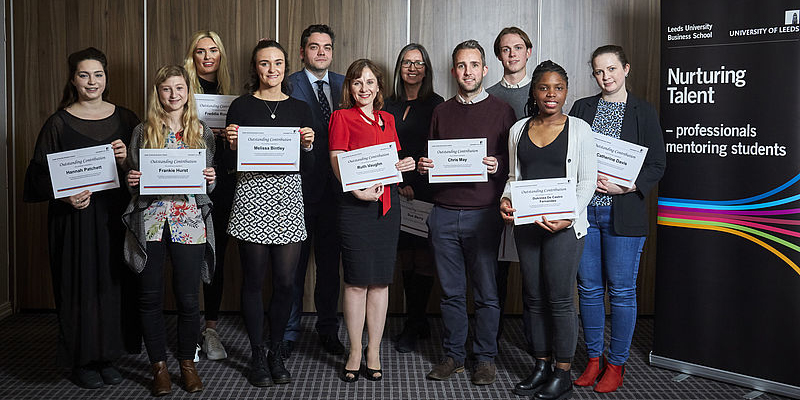 The Nurturing Talent Mentor Scheme (NTMS) held its annual Celebration Event to mark another successful year of the scheme.
Now in its seventh year, the mentoring scheme connects professionals from industry to students from the Business School.
The event saw mentors and mentees gather at University House to celebrate the success of the programme, share experiences, network with one another and find out who had won the award for 'Mentee of the Year' and 'Mentor of the Year'.
The event also recognised nine mentoring relationships where the mentee had been in a mentoring relationship with their mentor throughout their time at University – from first year to final year. Certificates were awarded to those mentees and mentors for their outstanding contribution.
Mentee of the Year was awarded to final year Management student, Becky Large who was nominated by her mentor Jo Smedley from Zest Ltd. On winning the award Becky commented: "I was so excited and overwhelmed to win the 'Mentee of the Year' award. The Nurturing Talent Mentor Scheme has been central to my personal and professional development journey throughout university. Having Jo as my mentor has provided me with the support and motivation I needed to develop my skills and remain focused."
Mentor of the Year was awarded to Chris May from Asda, who was nominated by his mentee Justine Orford. Chris, an alumnus of the University and a mentor on the scheme for five years said "It's been a pleasure to be part of the Nurturing Talent Mentor Scheme, particularly as Leeds is where I studied several years ago! As well as feeling like I can offer help, support and guidance to my mentee Justine, it has also helped my own personal development supporting my day job. I've enjoyed making a difference and Justine has been great to work with. We've been together for four years ever since she started her University career and it's been so rewarding to see her change and develop over the years. The scheme is brilliant for students and mentors, I wish I'd had the opportunity when I was at University!"
Anna France who manages the Nurturing Talent Mentor Scheme commented "The event was a great way to celebrate the impact the scheme has on both mentees and mentors. It was also fantastic to celebrate the nine mentoring relationships and the outstanding contribution made by those mentors and mentees in terms of dedication and commitment".