Leeds students win live pitch with Manchester's creative agencies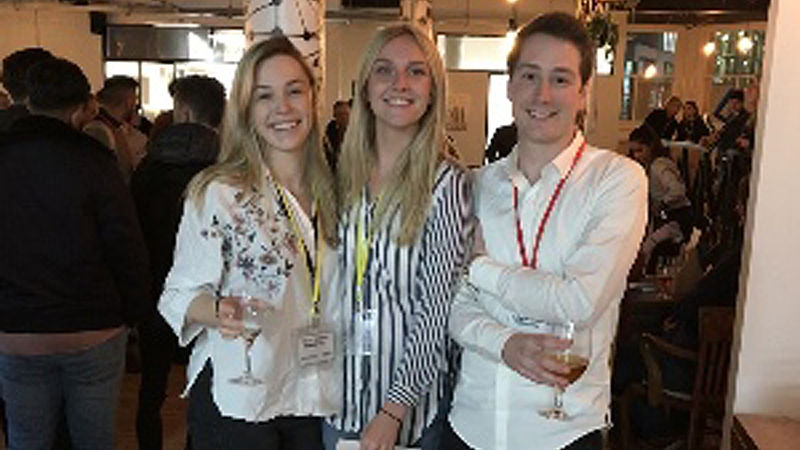 Students from BA Management with Marketing pitched to 30 agencies from Manchester's creative community as part of a 'live' agency brief.
Two Leeds students were on the winning team and they now have the opportunity to take up internships at Havas Lynx, to bring their pitch to life.
The Two+Two collaboration event brought together 150 creative, technical and marketing students from across the north to work on a 'live' agency brief tackling the issue of Youth Loneliness.
The students worked with 60 mentors from 30 agencies giving them the chance to network with industry experts, pitch their creative concepts to a panel of judges and gain valuable work experience. The brief itself was inspired by the work of the Jo Cox Commission.
Undergraduate students, Amy Dennis, Rhys Ellis, Ellen Humphries, Holly McCann, Nicola O'Pray, George Spencer and Jessica Storey attended the event representing the Business School. Holly McCann and Ellen Humphries were on the winning team and have been invited to Havas Lynx as interns to help turn their idea "Yellow There" into a live campaign.
"The event was a great opportunity to bring together students from various universities and a range of courses to collaborate on one powerful brief. It gave me insight into the steps that need to be taken to tackle a creative brief and understand how different roles within an agency work together to produce a campaign. It was a really enjoyable and interesting day!" Ellen Humphries
"For someone with little experience in agencies it was a very insightful day which helped me understand what a day's work in an agency may be like and exactly how my own skills might fit in to that. I have always associated advertising agencies with graphic designers and uber-creatives and wasn't sure how I would fit in to that, but now I am a lot clearer and more confident in what my role in this kind of agency could be. Also, winning the competition was a great confidence boost and will be great to talk about in future interviews and applications." Holly McCann
George Spencer's team was runner-up with their concept 'Cahoot': "I would say that the day delivered exactly what it promised, and more. As a collaborative exercise it was well thought out, with teams split up intelligently. Everyone was required to put their skills forward, complementing other skills in the team, with incredible support from the mentors."
Also speaking about the experience, Amy Dennis said, 'I had the most amazing day and made some really great connections. I learnt so much from the day and it was really inspiring to meet mentors that had been in a similar position to us'.
Sally Chan, Head of Final Year said, "This was the first time we have participated in such an initiative and our students have received some really positive feedback from their mentors. Three of our students made the final which is no mean feat."
About Two+Two UK
Two+Two was established by Creative Resource.
The event showcased the commitment of Manchester's creative community to work with Universities in the north, in identifying new talent and addressing the skill shortages in the creative sector.
Dr James Duggan from Manchester Metropolitan University presented research on Youth Loneliness to help students understand the social challenges. Tom Richards, Chief Creative Officer of Havas Lynx and Chair of the Judging Panel, outlined the brief for the teams. Nick Entwistle, Founder of One Minute Briefs and Creative Director of Trunk, kick-started the team's thinking with quick concepts.