Research and innovation
Last week, Leeds University Business School hosted an event for the Leadership Foundation for Higher Education as part of the foundation's Women onto Boards series.
The Leadership Foundation is committed to developing and improving the management, governance and leadership skills of existing and future leaders of higher education. The Leeds event, held on 27 June, was the fifth and final seminar in a programme designed to provide information, encouragement and connections to support women considering a board role.
The event was chaired by the Business School's deputy dean and staff governor, Professor Catherine Cassell, whose research interests include areas of change, learning and diversity at work. The panel featured Justine Andrew, market director for KPMG's education practice and a senior independent governor at Leeds Trinity University; Professor Shearer West, deputy vice-chancellor, University of Sheffield; and Fiona Hathorn, managing director of Women on Boards UK and a Trustee of the charity Fight for Sight.

Key discussion points
A number of personal insights, experiences and pieces of advice were shared by the panel members during the event. This included: the need to be a role model for students; the importance of being yourself and not worrying about being "the right fit"; applying for roles even when you think the odds are stacked against you; not needing to be an expert on everything to be on a board and instead bringing a certain skill set and knowing that it's important to ask questions rather than worrying about having all the answers; the importance of finding your own authentic voice that gives you the confidence to speak in your own way; and that you can have an impact by listening.
Other points discussed included: knowing that the "boys club" still exists and that you will need to find your own mechanisms for dealing with it; that there is a "glass cliff phenomenon" where troubled organisations suddenly appoint a woman into a leadership position when there is a higher chance of failure; being aware of the "rubber band phenomenon" when companies appoint women into leadership positions or onto boards and then feel that they have done their job and don't need to continue to increase diversity; the importance of having equality targets rather than quotas; and the need for organisations to do succession planning (thinking ahead and continually thinking about the diversity of the board).
The panel also mentioned: the need to be able to clearly articulate the value that you can add to a board and what your point of difference is; how most roles are not advertised and that to overcome this organisations should promote their vacancies more widely; and the need to understand how to re-write your CV for a non-executive board position (this is very different from a job or academic CV).
Supporting women at Leeds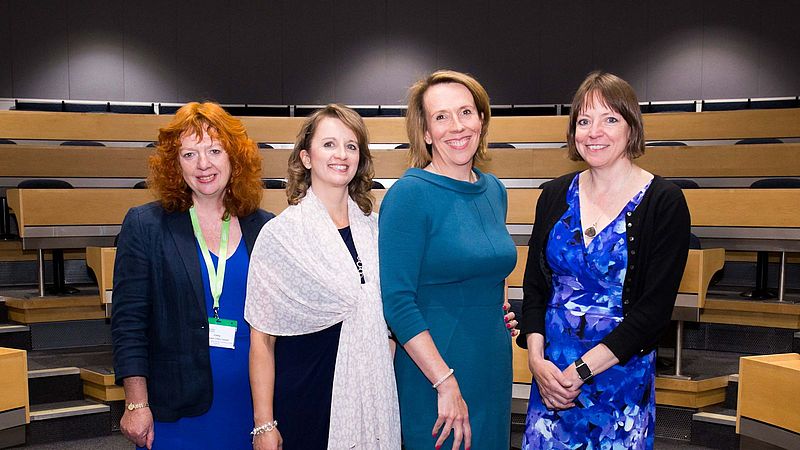 Speakers (from left to right) Catherine Cassell, Fiona Hathorn, Justine Andrew and Shearer West.
The University of Leeds works hard to promote gender equality and support the career development of women working in traditionally male-dominated fields. It has been awarded a bronze award under the Athena SWAN Charter for Women in Science, and is working towards achieving silver status. The Equality Challenge Unit's Athena SWAN Charter was "established in 2005 to encourage and recognise commitment to advancing the careers of women in science, technology, engineering, maths and medicine (STEMM) employment in higher education and research."
Research on diversity
In addition to the Business School supporting the University to work towards silver status, a number of the School's researchers conduct research on diversity in the workplace
You can read our blog posts written for International Women's Day which include:
Dr Annalisa Murgia, Principal Investigator of an ERC Starting Grant project - Seizing the Hybrid Areas of work by Representing self-Employment (SHARE) – was previously based at the University of Trento, Italy, where she co-ordinated "GARCIA – Gendering the Academy and Research: Combating career Instability and Asymmetries." The GARCIA project was concerned with the implementation of actions in European universities and research centres to promote a gender culture and combat gender stereotypes and discriminations. You can read more about the research on the project's webpage.
Professor Nick Wilson has conducted research on diversity in the corporate sector – "Ethnic and Gender Diversity: An Exploratory Analysis of UK Directorships". Nick also received a lot of media coverage for his research on business survival and insolvency that showed that firms with diverse boards had lower failure rates.
If you'd like to find out any further information on Leeds University Business School's researchers work on diversity, please contact research.LUBS@leeds.ac.uk. If you would like to attend a 2018 Women onto Boards event, London, Edinburgh, Birmingham and Cardiff dates have been announced.
You can view photos from the event on the Business School's Flickr page.
Contact us
If you would like to get in touch regarding any of these blog entries, or are interested in contributing to the blog, please contact:
Email: research.lubs@leeds.ac.uk Phone: +44 (0)113 343 8754
The views expressed in this article are those of the author and may not reflect the views of Leeds University Business School or the University of Leeds.