Celebrating 25 Years' Service
Research and innovation
2016 sees Eleanor Allaker, the Business School's Research Finance Officer, celebrate 25 years of service at the University of Leeds.
On Monday, Eleanor attended a lunch hosted by the Vice-Chancellor, Sir Alan Langlands, to honour this milestone with others also celebrating their long service.
Eleanor has spent all 25 years at the Business School, the last seven of which have been within the Research and Innovation Office. We asked Eleanor about her time working at the University:
1. Where did you work in the Business School before joining the Research and Innovation office?
I worked in the Undergraduate Office for ten years and then the Finance Office for seven. I started working in the Research and Innovation Office in 2009.
I've had various roles during my time here at Leeds. I used to be a panel secretary to lecturers and was also secretary to Peter Moizer (before he became Dean!). Now my role involves looking after post-award activity which includes the operation of research grants, claims processes and audits.
2. What are the biggest changes to the Business School that you've seen?
When I started working here there wasn't a Business School as we know it now. Instead there was the School of Economics and Social Studies and then also the Management School. It was a major change when we all moved to the Maurice Keyworth Building and became the Business School.
It was exciting to find out different ways of doing things and meeting new colleagues. After years of working separately, we were now mixing with "the other side"!
I've seen the University grow a tremendous amount over the last 25 years.
3. Did you imagine yourself staying at the Business School when you first started?
Yes, I knew straight away that I'd be staying here. I knew on the first day, even though I was only covering maternity leave. I thought - "If I'm given the opportunity to stay, I'll never leave."
I had worked in previous places that weren't very enjoyable, whereas the whole environment at the Business School is lovely. I've never not wanted to come in to work here.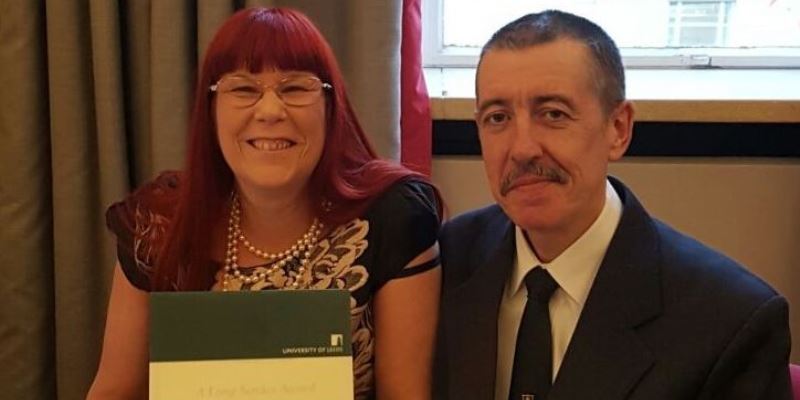 4. Do you have any particular memories about your earlier career here at the University?
I used to enjoy using the electric typewriters before we had computers. I felt very posh using the new typewriter!
When we did get computers, they used to be very big and bulky with green writing on black screens. A lot of the systems we used use to take half an hour to load and then another half hour to save!
5. What do you enjoy most about working here?
Every day is different - no two days are the same.
6. Is there anything else you'd like to add?
I've had some fun times here and worked with a lot of good colleagues. I can't imagine my life without being at the University.
Professor Peter Moizer, Dean of the Business School, comments:
We would like to offer our congratulations to Eleanor on this impressive milestone and thank her for her contributions to the Business School over the past 25 years. She is a valued member of the Business School team and I would like to wish her many more happy years here.
The views expressed in this article are those of the author and may not reflect the views of Leeds University Business School or the University of Leeds.