"Talk to Me, Not at Me": Tips for achieving and managing collaborative communication effectively
Global and Strategic Marketing Research Centre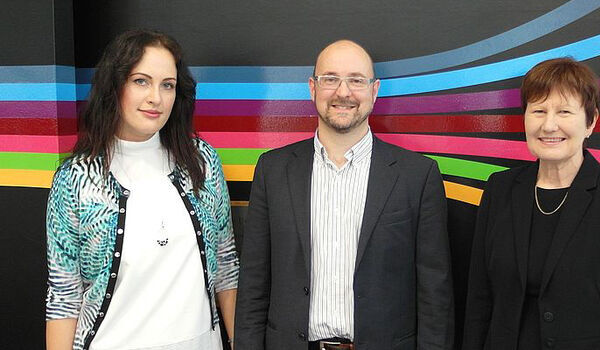 Communication is an aspect that contributes to successful business relationships since it can bind together relational exchanges through open, honest and frequent interactions. Managers need to be active in communicating with their partners and opening channels of communication in order to build mutual understanding.
Communication that is characterised as collaborative is key to a healthy business partnership. Relational aspects like communication and co-operation are imperative, since they are likely to enhance the outcomes of a given partnership in the longer term and even contribute to the development of organisational capabilities that can pay off across partnerships.
It has been argued that effective collaborative communication can become an organisational relational competency. Little research, however, has investigated how companies can develop and implement successful collaborative communication strategies. Collaborative communication is especially important in cross-border relationships, as these may face greater uncertainty and more easily unravel.
Our research project is based on a single case study of a large, multi-national retailer based in the UK. The retailer operates in more than 40 territories with over 400 stores around the world. The project is informed by the retailer's established franchise model, which is the major focus of its international operations.
The study set out to investigate how collaborative communication can enrich international business relationships in order to achieve mutual understanding, trust and ultimately, success.
An in-depth case-study enabled us to obtain detailed information regarding communication practices currently in use by the franchisor in its interactions with its area development franchisees in several countries around the world.
From our research on how to take the franchising model to emerging markets, especially in relation to international retailing, we have created these tips to achieve and manage collaborative communication effectively:
DO: apply both formal and informal modes of communication. While pre-scheduled regular conference calls provide certainty and discipline between partners, occasional unplanned calls or ad-hoc emails can bring extra information and enhance support and trust in the relationship.
DO: consider allocating regional/country-specific contact people or even functional teams in your organisation for each international partner.
DO: allow sharing best practices among your business partners where possible and appropriate. While some markets operate similarly, others have quite diverse situations, and it would be beneficial for your business partners to share how they drive sales in different territories.
DO: create and maintain an open dialogue with your partners. Large and experienced partners can share a lot of international expertise that can help achieve competitive advantage.
DON'T: neglect your smaller partners. What they have to say or need is equally important as what your larger partners bring to the discussion. Make sure your partners feel equally important and valued, eg by facilitating meetings between senior managers.
DO: exchange information with your partners at both tactical (day-to-day, operational) and strategic (future-oriented) levels. Maximise growth potential in your foreign markets by discussing opportunities with your business partners stemming from their insights.
DO: always inform the partner who the contact person is for specific queries. Not only does it give clarity for both parties, it also helps to select the person with the right amount of relevant expertise and experience.
DO: consider whether providing a tailored communication channel for partners globally could be a useful tool in the maximisation of international growth.
DO: send requests which are clearly rationalised and provide beneficial outcomes for both parties.
DON'T: rely on simple information exchange (such as telephone calls or e-mails) when you want to achieve something or initiate change. This requires a more personalised approach, preferable with a face-to-face element in it.
DO: provide feedback and recommendations occasionally to increase partnership returns and advance business practices.
DON'T: threaten partners, as this will reduce trust and relational bonds. Minimise the amount of promises you make, especially if your partner sees it as a way of bargaining, rather than working together towards achieving common goals.
DO: treat communications in the partnership as knowledge-sharing routines that give the franchisor long-term strategic flexibility in its mode of entry into the overseas market.
In sum, our findings showed that international collaborative communication should be based both on a tactical, day-to-day operational type of communication and strategic, future-oriented discussions and planning. Moreover, combining formal (scheduled, regular and structured) modes of communications with informal ones (ad-hoc), can result in higher levels of trust and commitment among partners and ultimately, performance improvements. In other words, when communication is tailored to your international partner, increasing the level of trust, it fosters the willingness to co-operate, make strategic decisions and discuss future objectives together. Therefore, higher trust is associated with higher commitment within international partnerships, which eventually yields even more benefits for the organisations.
Effective and collaborative communication within international partnerships can enhance growth and profitability for both parties by overcoming problems associated with misunderstandings or operational issues, boosting trust and commitment therein.
Managers should pay special attention to the way they communicate with their international partners and understand the benefits of collaborative approach efforts.
If you would like to find out more about this research project, or speak to the team about potential research partnerships, please contact research.LUBS@leeds.ac.uk.
Contact us
If you would like to get in touch regarding any of these blog entries, or are interested in contributing to the blog, please contact:
Email: research.lubs@leeds.ac.uk Phone: +44 (0)113 343 8754
The views expressed in this article are those of the author and may not reflect the views of Leeds University Business School or the University of Leeds.