Developing ideas through crowdsourcing
Centre for Technology Innovation and Engagement
The Swedish ICT company, Ericsson, is one of many companies that engage in corporate entrepreneurship in order to renew themselves and create radical innovation. This blog post is a reflection on how crowdsourcing could be used to support the innovation process and corporate entrepreneurship at Ericsson.
What is Corporate Entrepreneurship?
Due to changing conditions in the business environment, established firms must renew themselves continuously to stay relevant and avoid getting disrupted by new innovations or fall into the trap where price becomes the main distinguisher between competing offerings. Entrepreneurship has always been a driving force of change and innovation in society and although it is typically associated with sole inventors and start-up companies, the reality is that established corporations also take advantage of entrepreneurship to renew themselves and adapt to changing environments. The strategic benefit of corporate entrepreneurship is that it creates diversity within the company, providing multiple paths for the firm to pursue depending on how the highly uncertain environmental changes turns out. A lack of corporate entrepreneurship can limit diversity and make the firm more sensitive to these environmental changes.
My research on corporate entrepreneurship
As a part of the COINS project, funded under the EU's Horizon 2020 programme, my research investigates how a multinational ICT company, Ericsson, enables corporate entrepreneurship as a way to renew itself. I am especially interested in how innovation managers create the right organisational context for entrepreneurial initiatives to take shape and become successful, something that can be incredibly difficult in an organisation with a strong efficiency focus and with routines and structures geared towards supporting the current business.
During the last seven months I have had the opportunity to follow an initiative called Ericsson Garage, which started in 2014 as a dedicated incubation space and a supportive environment for innovation projects initiated by Ericsson's employees and is now a part of Ericsson's newly started innovation unit, Ericsson ONE.
Over the years Ericsson Garage has evolved and grown from one single Garage located at the headquarters in Stockholm to a global network of 13 Garages spread around the world. All Garages are supported by people who typically have other formal positions in the company and have chosen voluntarily to be a part of the Garage network. The same goes for the drivers and inventors behind the incubated projects in each Garage. In this way, Ericsson Garage works in a different way compared to the rest of the organisation. People assign themselves to drive or support projects based on their interest and their expertise, and inventors are simply utilising the Garage as a way of turning their ideas in to new business ventures. As entrepreneurs they get to progress their passion projects while at the same time enjoying the benefits of a secure employment. The Garages have a degree of flexibility when it comes to populating project teams and finding the right kind of expertise to support the projects - they are not confined by either internal or external organisational boundaries in their search for the right knowledge to support their innovation processes and often acquire support from different areas within the organisation as well as from externals, such as partner organisations that possess complimentary competences and knowledge.
The result Ericsson Garage aims for is to support the creation of innovations that can generate new revenue streams to the company. Particularly, they aim to explore alternatives in novel technological avenues and markets. This requires something called distant search – finding solutions to a problem that you (as an individual or an organisation) don't at present have the skills to solve. One way to conduct distant search is to involve externals eg contractors.
Crowdsourcing – an adaptation of distant search
During one of this summer's Northern Advanced Research Training Initiative (NARTI) events, which was co-hosted by COINS, Professor Christopher Tucci was invited to talk about an approach which, under certain circumstances, can transform distant search to local search (problem solving using existing knowledge) and provide the benefits of distant search without inferring the typical costs associated with it. This approach is called crowdsourcing.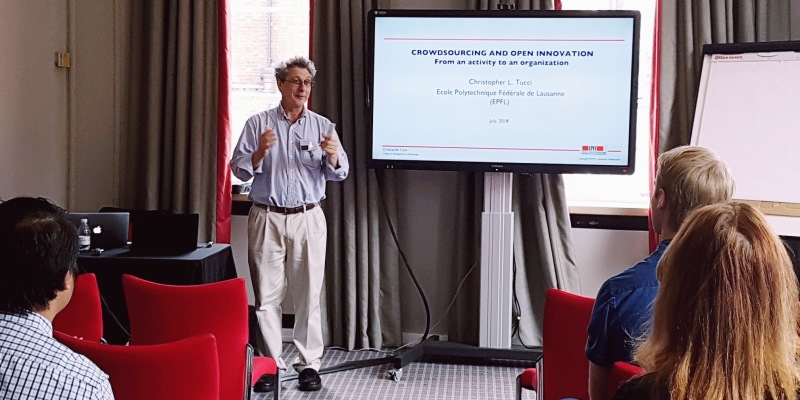 In crowdsourcing, instead of an individual trying to solve a problem by themselves or assigning a contractor to do it for them, they broadcast the problem to an entire crowd and let the people in that crowd decide who has the required skillset to solve the problem. The term crowdsourcing is relatively new, but the concept has been around a long time.
Historic examples of crowdsourcing
The classic Western 'most wanted' posters offering bounties for people who would bring criminals to justice is just one example of how crowdsourcing has been used.
An example of crowdsourcing as an historic innovation tool dates back to 1714, when the British government announced 'the longitude rewards', a cash prize for anyone who could invent an effective way to determine the position of a ship at sea.
Modern examples of crowdsourcing include:
Netflix offered a $1 million reward for anyone who could make a 10% improvement of their recommendation algorithm. This example represents tournament-based crowdsourcing, where people compete for a prize.
Facebook used the crowd of users to translate its web content to new languages without offering any reward except for an improved Facebook experience. This is an example of collaboration-based crowdsourcing, where different agents of the crowd works together to solve the problem.
In the Facebook example, the web content was translated from English into French in just a few days and into Spanish in about two weeks as a result of crowdsourcing.
Four typical characteristics of a problem that is suitable for crowdsourcing are:
That the knowledge required to solve the problem falls outside the individual or company knowledge base and therefore require distant search
That it is easy to describe and broadcast to the crowd
That the target crowd is large and that some members of the crowd are motivated enough to put themselves forward to solve the problem
That the final solution to the problem is easy to evaluate and integrate to the company and there are clear financial gains
Could crowdsourcing support Ericsson Garage's corporate entrepreneurship efforts?
So what type of problem requires Ericsson Garage to engage in distant searchand how could crowdsourcing be a beneficial approach to solve these problems?
From having mostly been a carrier of phone calls and text messages, mobile networks today carry more data in the form of video calls, video streaming and social media content. This has shifted the technical requirements of the networks but it has also shifted the business environment in which Ericsson operates. The major value of the services provided through mobile connectivity used to be captured by the operators, but today it is to a larger extent captured by content providers, such as Facebook and YouTube. In the future, personal mobiles may not make up the biggest proportion of network users, instead there's a strong possibility it will be the likes of cars, drones, factory machines, video surveillance cameras and smart meters, to name just a few.
This development brings with it new challenges and opportunities, technology-wise as well as business-wise, as more industries become involved in business ecosystems linked to mobile connectivity. The Internet of Things (IoT), as this network of physical devices is called, is an area that is considered to be of strategic importance to Ericsson in the future but addressing this area requires much learning by Ericsson. Ericsson Garage has played an important role in exploring this area and several of the projects they have driven so far have a connection to IoT.
Ericsson Garage attempt to tap into the knowledge of crowds by providing virtual idea boxes and arranging hackathons and start-up competitions to both get new venture ideas from the 100,000+ employees at Ericsson and from the start-up communities.
The first crowd, the employees, can provide opportunities for internal corporate ventures to take shape. The second crowd, the start-ups, can provide opportunities for joint ventures with Ericsson. Ericsson's global reach and good reputation makes it possible to reach a large crowd of people. The start-ups often see the opportunity to get a strong ally who can provide market channels, technology and product development expertise, investments and so on.
A major obstacle in using crowdsourcing to tackle the task of exploring new business cases for the IoT is that the problem does not have the fourth characteristic, namely it is not easy to evaluate the successfulness of these early ventures, nor to understand the financial benefits the venture has brought to the company. Ericsson Garage must be able to continuously evaluate all incoming ideas, as well as the development progress of the selected ventures, throughout the innovation process. This is difficult for two main reasons;
Early ventures are ambiguous by nature. It is difficult for anyone to predict the potential success for a business venture in its early stages and evaluating the progress of an early venture is also difficult. For more mature and exploitative ventures there are many indicators, such as margins and sales volumes, that are telling of the progress and performance but these are not suitable for explorative ventures that may not be profitable in the near future
The technology- and business-related knowledge necessary for evaluating the potential of early ventures in new areas is not easily accessible. Even if people within the company may possess this knowledge, they are dispersed around the company and hard to find.
An example of this from Ericsson Garage was when they announced a global start-up competition.
Ericsson's global start-up competition
Start-up companies were invited to pitch their business ventures to Ericsson and those deemed to have high potential and which could potentially become a valuable partner to Ericsson would be invited to join a six month incubation program. With hundreds of applicants from different technological areas, ranging from drones using artificial intelligence-based video analytics, to self-driving robots for construction work, the requirements on the assessors to possess broad and deep technological knowledge in vastly different areas were immense.
In an attempt to fairly and accurately evaluate the entrants, approximately 60 employees from various parts of the company, each with different expertise, were invited to evaluate the start-ups, first based on a written application and then, for the shortlisted applications, a short verbal pitch.
The idea was that by having a large number of assessors, it would be more likely that at least one of those individuals would have the right knowledge-base to see how the start-up could fit within Ericsson and to assess the technology and market potential of the start-up's product. 60 people may not seem like a crowd when compared to the crowdsourcing efforts of companies such as Facebook, who broadcast its web content translation task to their entire user base.
Virtual money for internal ventures
Other companies, such as Lufthansa and Siemens, have taken the idea to use a number of employees to evaluate new ventures even further. Both Lufthansa and Siemens have started giving their employees a sum of virtual money that they can invest in internal ventures. These investments are then linked to a dedicated fund. Employees can also be rewarded if their investments turn out to be successful, which gives them a clear incentive to be thoughtful when deciding how they allocate their virtual funds. In this way, the evaluation and decision making process takes advantage of the wisdom of crowds. It is also an example of democratisation of firm decisions.
This blog post is a summary of how crowdsourcing could be used to support the innovation process and the corporate entrepreneurship at Ericsson. For more information, take a look at the COINS research pages, or contact the Research Office at research.LUBS@leeds.ac.uk.
The views expressed in this article are those of the author and may not reflect the views of Leeds University Business School or the University of Leeds.