Industry engagement: A visit from Gisela Abbam, GE Healthcare
Centre for Technology Innovation and Engagement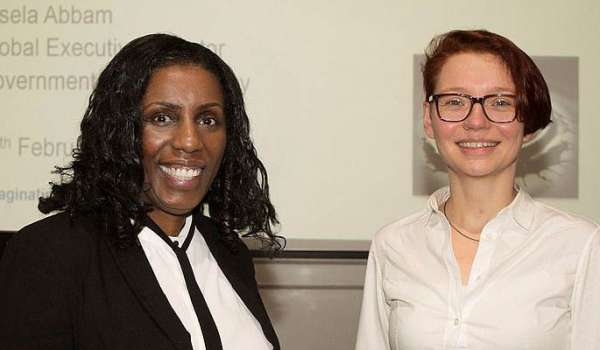 It was a great honour for the Business School to receive a visit from Gisela Abbam, Global Executive Director Government Affairs & Policy at GE Healthcare at the end of February.
GE Healthcare is the $18 billion business unit of General Electric that provides medical technologies and solutions to health customers in over 100 countries. Like the University of Leeds, with its leading medical, science and engineering research bases, GE Healthcare works in partnership with others seeking to improve health outcomes globally.
Our guest, Gisela Abbam, is responsible for the strategic direction of government affairs and policy for GE Healthcare and works with international organisations shaping global health policies across the globe.
Gisela was welcomed by Professor Timothy Devinney, Pro-Dean for Research and Innovation, and myself in my role as a core member of the Centre for Technology, Innovation and Engagement (C-Tie). A day of meetings with leading experts from across the university allowed for in-depth exchanges about innovation dynamics in medical technology.
As part of our Corporate Wisdom flagship lecture series, Gisela gave an inspiring talk in the evening on Medical Technology Innovation at GE Healthcare to a large audience of academics, students and representatives from local industry.
She outlined how GE Healthcare delivers novel healthcare solutions in a complex and changing healthcare environment. She also presented some of their most recent products. The talk concluded with a video showing how GE Healthcare works with partners in lower and lower-middle income countries. The talk was recorded and can be viewed on the Business School's YouTube channel. A reception afterwards provided further networking opportunities.
Following the visit, C-Tie and other research groups from across the University are now in the process of following-up on opportunities for collaborative research with GE Healthcare. A short-term opportunity arose in the context of the Science Innovation Audit on Medical Technologies carried out by colleagues from the Leeds Medical Technology Innovation and Knowledge Centre.
In May, members of C-Tie will attend the Third WHO Global Forum on Medical Devices as they prepare for a series of projects on medical technology innovation and regulation. Watch this space for updates on this event.
The views expressed in this article are those of the author and may not reflect the views of Leeds University Business School or the University of Leeds.