Managing in the age of disruption
Centre for Technology Innovation and Engagement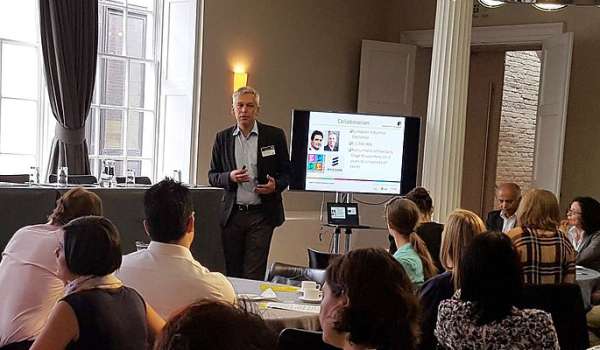 The prevalent emergence of digital technologies often leads to disruptive innovation, broadly defined as the emergence of products or solutions that are fundamentally different from the existing ones which prompts firms to re-organise themselves and find novel ways to create and appropriate value.
In recent years, we have witnessed more and more industries being disrupted by digital technologies (e.g. Uber has disrupted the taxi industry; Spotify and Netflix have disrupted the entertainment industry). These phenomena have fascinated many innovation management scholars and practitioners and prompted some to investigate strategic responses to disruptive innovation.
On 10 and 11 July 2017, the Centre for Technology Innovation and Engagement (C-TIE) and the Northern Advanced Research Training Initiative (NARTI) hosted "The Age of Disruption: Research Approaches and Managerial Challenges": a two-day workshop in London where doctoral students, academics, and practitioners engaged in productive discussion around the challenges of managing disruptive innovation.
Day 1: Investigating Disruptive Innovation
The main purpose on the first day was to provide an advanced research training for doctoral students and junior faculty. Four prominent academic scholars were invited to share their experiences in conducting high-quality research on innovation management.
The workshop was started with a thought-provoking presentation from Professor Raghu Garud, Pennsylvania State University, who suggested that we should look at innovation as a process, not as an outcome. By understanding innovation as a process, we can understand innovations as a sequence of events and appreciate the complexity associated with it.
The second presenter, Professor Davide Ravasi, Cass Business School, shared his experience of investigating disruptive innovation through a case study (i.e. qualitative method). He posited that a case study allows researchers to have a deep immersion of a phenomenon and to appreciate the richness of the data. According to him, there are at least three key aspects in a high quality case study research:
Persuasive evidences
Convincing theoretical explanations
Contribution (i.e. offers a novel explanation how a phenomenon might happen)
The workshop then continued with a presentation by Dr Paola Criscuolo, Imperial College London, who shared her experiences on conducting research along with an industrial partner. Despite all of the challenges, she emphasised that working on an industrial collaboration can be highly rewarding. The researcher can get access to unique and proprietary data and can directly observe and investigate the 'real' phenomenon, which ultimately results in an impactful research.
Finally, the session was concluded with a presentation from Dr Keyvan Vakili, London Business School. He shared his transformation journey from a PhD Student to a junior faculty member. He gave valuable advice for problems that are typically encountered by a PhD student such as how to find the 'gap' in the literature, how to formulate good research questions, and how to produce a theoretical contribution.
Day 2: Strategic Responses to Disruptive Innovation
The second day of the workshop was designed to bring together academics, executives, and managers to create a meaningful discussion on the topic of innovation management. Key industry experts from Ericsson, IBM, Frost & Sullivan, PwC along with innovation management academics presented their insights on the strategic challenges of managing in the age of disruption.
Professor Raghu Garud opened the morning session by presenting how disruptive innovation can change the logic at the workplace from mass production logic (i.e. efficiency and productivity) to generative logic (i.e. innovation and co-creation). He pointed out that firms often struggle to change because they tend to operate with 'yesterday' logic. He then concluded by posing an important question about how firms can embrace changes while still maintaining their identity.
The session continued with two presentations from industry experts from Ericsson and IBM on how digital disruption might result in new working process, new businesses values, and new competencies. Broadly defined, digital disruption is a transformation caused by the emergence of digital technologies (e.g. digitalisation) supported by connectivity. In general, digital disruption has three rules:
Whatever can be digitalised will be
Digitalisation leads to free
Data exhibits gravity (i.e. what to do with the data is the new source of value creation).
Concluding the morning session, four academics and three industry experts joined a panel to lead an interesting debate. The discussion mostly centred on how to strike a balance between current business and future businesses and to achieve both short term and long term goals simultaneously. An interesting question about responsible innovation (i.e. making innovations desirable for society) was raised by one of the audience members; digital disruption might also have a negative impact to social welfare since it can bring unemployment (e.g. taxi drivers due to the emergence of Uber). Nevertheless, there appeared to be a degree of consensus that technology revolutions always make one competence become obsolete, yet always come with new demands of other (new) competencies.
In the afternoon session, two speakers from Frost & Sullivan and PwC presented their forecast of trends in the automotive industry and the financial technology (fintech) industry. Both speakers echoed the same messages that digital technologies accelerate technology development in both industries (e.g. autonomous cars, blockchain – a digital ledger in which bitcoin transactions are recorded), yet are not accompanied by the government regulations that support them.
Following this, Professor Steve Burdon, University of Technology Sydeny presented his study on firms' responses to disruptive technology. Interestingly, he found that the most successful companies put emphasis quite early (and heavily) on digital technologies, while none of the least successful companies had top management that supported digital technologies. He concluded that an effective digital transformation is the one that can transform from "doing" digital to "being" digital.
Overall, this two-day workshop was an eye-opening event for me as an early-stage researcher who studies innovation. Disruptive innovation is indeed an emergent phenomenon and the question on how organisations adapt in the age of disruption presents ample opportunity for the future research agenda.
The views expressed in this article are those of the author and may not reflect the views of Leeds University Business School or the University of Leeds.