My experience of completing an Early Career Fellowship
Centre for Decision Research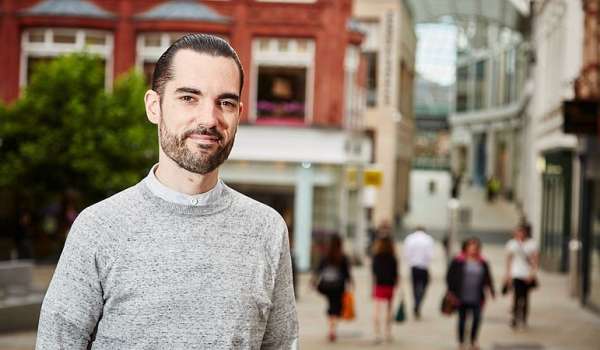 As part of an Early Career Fellowship awarded by The Leverhulme Trust in 2015, Dr Simon McNair has spent the past three years working in partnership with debt advisors at Citizens Advice (CA) both in Leeds and Bradford. The three-year project aimed to design, develop and evaluate an advice resource that has been implemented into CA's debt advice process as part of a trial. The resource – a 14-page booklet titled "Money Worries, and How to Beat Them" - contains advice that specifically targets the kinds of emotional burdens that are often experienced by those who contact CA for debt advice, and has recently completed its evaluation trial, with final findings pending.
Now approaching the end his fellowship, Simon reflects back on how the fellowship has progressed, and how he has developed as part of it:
What has been the most enjoyable part of this project?
The opportunity to contribute meaningful research-led insights that have directly informed CA advisors and clients, has meant a lot to me. The debt advisors at CA provide an incredibly important service to so many, at no cost, and so if our research can appreciably inform how that service can be even more beneficial to its users then I'll be ecstatic. That really is the key goal of this project: can we make the vital service CA provides even better for their clients.
When we started three years ago we began by speaking directly with CA advisors and clients as part of in-depth interviews, then further fleshed out our understanding with surveys, before spending an extensive time designing, developing, and revising our advice brochure. Throughout the process CA has been facilitative, supportive, and has offered fantastic feedback that has helped immeasurably in shaping our Money Worries brochure. I will remember the day I took delivery of our first full-colour printed brochures for a long time! Holding a tangible product that was created as a result of our research was very heartening!
What has been the biggest learning curve?
With this fellowship I was in full and complete control of the entire process - from conception and writing the grant proposal, to planning every aspect of the three-year project; engaging and managing the partnership with CA; designing, scheduling, conducting, and analysing three distinct research phases; designing and compiling a brochure to be used in public; and writing research papers - all in addition to managing other teaching and research commitments!
On the one-hand, you have a level of independence to pursue your research your way (with very constructive help from my mentor and co-investigator Professor Wandi Bruine de Bruin!), and that's also a reflection on The Leverhulme Trust, who give their Early Career Research Fellows that space.
On the other-hand, and especially on a project like this where external partners are involved, you are as much a project manager as you are an academic, but while project managers in industry often have teams of people to help conduct the project, as an academic you are often the manager and the team!
Although I've had great support from Wandi throughout when needed, there are times where it has felt a little overwhelming being the "academic", the "project manager", and the "project delivery team" all as one, and managing the various contingencies that each of those roles has. If you can, I'd recommend talking with colleagues who have successfully applied for and completed major funded projects, and gaining direct insights as to how these kinds of projects tend to progress, and strategies to manage them.
How has it helped you develop as a researcher?
Following on from my last point: a key way in which I've developed is in my project management skills. In fact, I recently successfully passed an accredited project management exam, and now hold a globally-recognised qualification as a DSDM Agile Practitioner.
Being involved in a project where impact – how we can actually produce actionable insights for organisations, for example – was at the forefront has also allowed me to gain experience of how we as researchers can better-integrate ourselves beyond the academic papers we produce (which, typically, will not be read by non-academics). As academics we can sometimes be very caught up in the nuances of our planned research, but it's important to also see a clear path as to how our research could be utilised in public, or industry. Engaging with Citizens Advice right from the start helped me to get a good handle on what the final impact of this project could be in tangible terms for them as a partner, which informed the subsequent progress and development of the project.
What advice would you give others thinking of applying for a fellowship
Firstly, be prepared to put a lot of time and dedication into perfecting that funding proposal! On-average, 5-10% of proposals for funding will actually be accepted and awarded; given that, make sure that your proposal is truly exceptional. In my case, I would say I spent just under two months building and writing (and agonising over) my proposal. That's not a suggestion as to how long you should spend on your proposal but gives you an idea of the amount of concentrated time you might need to devote. I'd highly recommend reading Wandi's excellent blog post on how to write a great funding proposal, which contains extremely insightful wisdom.
Secondly, I have tended to advise people who are considering applying for major funding to think very clearly about what the tangible impacts of your project might be – how might the public, or policy makers, or business, etc. actually improve what they do based on the kinds of insights you might generate in your work. The people reviewing your application will not necessarily be experts in your field, and so making a convincing case of the societal importance of your project is, in my experience, as important as the academic case you make. Even better is if you can involve an external partner or organisation as part of the project (and part of the development of the proposal process too), as that way you can demonstrate a clear route to impact directly as part of the project.
If there are organisations you think could benefit from the work you propose to do, then get in touch with them; let them know your plans and your interest in having them on-board; ask for time to meet or talk with someone at the organisation so you can explain more. In my experience they will give you that time. Having a letter from an external partner acknowledging your proposed project, and their interest in being involved will add some real weight to your proposal.
Finally, think hard about which academic colleagues you might invite onto the project as either co-investigators, or as academic advisors. Similar to having the support of an established external organisation, having input on the project from an established academic(s) can also go far to convincing funders of the academic merit of your proposal.
In addition, your established colleagues will also have a wealth of experience to guide you as you steer your project over its course, and will be there to call in when you need support, suggestions, reassurance, encouragement, double-checking, etc. (and you will likely need all of that!).
Having a strong academic foundation in place is, ultimately, the most vital part of how your project will progress; have this set in place before you begin the legwork of writing up your award-winning proposal.
To find out more about Simon's project - Developing more effective financial support service provision in the UK – visit the project webpage.
You may also be interested in:
The views expressed in this article are those of the author and may not reflect the views of Leeds University Business School or the University of Leeds.