Five Benefits of Visiting Another University for Research
Centre for Decision Research
PhD research visits to other universities are becoming increasingly popular. They vary in length and are usually in a time period from three months up to a year. At certain universities in some countries (such as Italy) research visits are obligatory; PhD students have to spend six months abroad at another university when they reach their final year of study.

I have recently come back from a research visit abroad, having applied for a grant in May 2015 from the Aarhus University Research Foundation for a three month research visit to their MAPP Centre (Research on Value Creation in the Food Sector for Consumers, Industry and Society). I applied for this grant because I wanted to learn more about eye-tracking which I had planned to use as a methodology for answering my research questions on whether the term 'organic' affects consumers as a heuristic cue (ie a mental shortcut) while making healthy food choices.

For those who are not familiar with this particular methodology, eye-tracking is a special methodology used for following people's eye movements with an eye-tracking device. This can be useful to see what catches people's attention, how much time they look at the areas of interest before making a decision, and the order they look at the areas of interest in.

There are various types of eye-trackers and I got to work with a Tobii Pro T60XL model. It has an infrared camera integrated in the computer monitor so participants' eye movements are captured unobtrusively.

The grant covered all of my expenses apart from food. Specifically, my accommodation, travel and research expenses were fully covered. My advice to those interested in visiting another university for a research visit would be to look for grants that cover as many expenses as possible because costs tend to accumulate quite quickly, especially in more expensive countries.

I found my time learning about eye-tracking at the Aarhus University to be very beneficial. From my experience, here are my top five reasons why I would recommend researchers to spend time at other universities:

1. To learn more about your research area or methodology of interest and gain new skills - The reason I chose this particular group (MAPP Centre) was the fact that its researchers' interests are focused on food choices and some are experts in eye-tracking. Moreover, the communication with my potential supervisor, Dr Jacob Lund Orquin, was very good from the beginning which was extremely important to me.
As well as mastering eye-tracking, I also learned to programme in R - a language and environment for statistical computing and graphics - which was both necessary and helpful for the data analysis because eye-tracking generates huge datasets. This is something I didn't expect that I would learn and would definitely recommend it to anybody interested in eye-tracking.

Networking is extremely relevant for a young researcher at the beginning stage of their career so my second reason in favour of visiting another university is:
2. To expand your network of contacts – For me, building an extended network at the Aarhus University has been a source of useful feedback, valuable new research ideas, and insights into different methodological approaches. What is more, I was able to share my research with others which led me to receiving information about useful conferences, workshops, seminars and summer schools in the area of my interest.
This is how I came to participate in a PhD course - using eye-tracking in social science research projects where I met 15 other young researchers from different countries interested in eye-tracking. I also participated in the MAPP Conference 2015 about Food and Identity which was a unique opportunity to hear great talks from the experts in this field. Overall, I was fully integrated in their research community and was made to feel very welcome.

From my point of view, it is good practice to continue the collaboration with the researchers you met at the university you visited and with whom you had a good working relationship. Therefore, my third reason for visiting another university is:
3. To establish and maintain the collaboration between your home university and the university you visited – There are mutual benefits of your research stay for both universities in terms of establishing collaboration and broadening their networks. Moreover, your research visit can also help inspire new research ideas for both institutions. There is the chance for you to act as a link between researchers from both universities who share their research interests.

A research visit is not only about work and focusing solely on your research. It is also an opportunity to explore a new country, learn a new language and allow yourself to be dazzled by a new culture and customs. To this end, my fourth reason for visiting another university is:
4. To experience and learn about new cultures and customs – I have to admit that visiting Denmark was one of my best experiences so far. I really like the Danish mentality and lifestyle. Danes are very health conscious and an environmentally aware nation, which is why most of them use bicycles and have special traffic lanes just for cycling. The Aarhus University takes good care of its employees; each day they are provided with several types of fruits and the student cafeterias offer food that bears a keyhole label (a Nordic label that identifies healthy alternatives within a product group). Aarhus, as the second largest city in Denmark, has a lot to offer and I particularly liked the wide range of museums that were available to me. The most exquisite museum I visited was the Aros museum which is one of the largest museums in northern Europe. It is known for its magnificent circular rainbow skywalk which differentiates it from other museums.

Finally, during your research visit you will most probably meet a lot of interesting people and there is a great chance that you will start long-lasting friendships with some of them. Therefore, my fifth reason to set off on a journey called research visit is:
5. To make friendships – During my stay in Denmark, I experienced living in a student dorm for the first time in my life. That was a great opportunity to meet new people from various research backgrounds and countries. At the same time, I was a member of a PhD community at the Department of Management at the Aarhus University so this also provided me with an opportunity to meet new colleagues. I have stayed in touch with a few of them which, as well as classic souvenirs such as postcards and magnets, is a great way to remember my fantastic experience.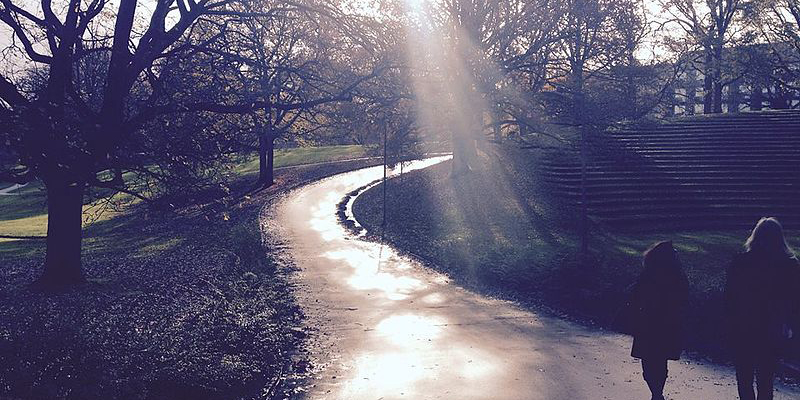 Contact us
If you would like to get in touch regarding any of these blog entries, or are interested in contributing to the blog, please contact:
Email: research.lubs@leeds.ac.uk Phone: +44 (0)113 343 8754
The views expressed in this article are those of the author and may not reflect the views of Leeds University Business School or the University of Leeds.