Black Friday: Has the Day of Discounts Reached its Peak?
Applied Institute for Research in Economics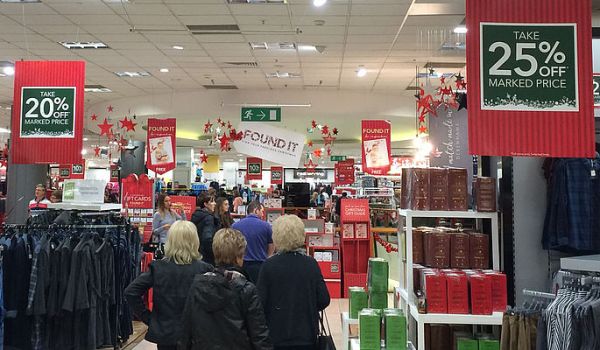 In light of Asda's announcement to shun Black Friday, Dr Mike Reynolds takes a closer look at why firms and consumers participate in the 'day of discounts' and calls into question the sustainability of the phenomenon.
Black Friday, some five years ago, I sat outside the Trafford Centre frantically updating my mobile phone browser in a vain attempt to buy a discounted digital radio, a product I was not sure I even wanted. Back then the 'day of discounts' deals were only available online through retailers with links to the USA, having traditionally followed Thanksgiving. In 2013 UK stores began to participate and 2014 saw the previous tipping of the scales go interstellar with online retail association IMRG and consumer data firm Experian reporting sales of £810m.
Exploring the trends closely is problematic as we cannot observe the alternative; we cannot ascertain how much of the £810m would have otherwise been spent over the Christmas period nor even what amount of this money is spent on discounted goods. Black Friday is a big day of sales, but the majority of that money would have been spent anyway. So what do firms get from participating in Black Friday's day of discounting?
With Asda's withdrawal and suspicions about the costly logistics for firms, it would be tempting to think of Black Friday as an entirely consumer led event. We could even turn to some simple Game Theory for an explanation: UK stores observed the strategic and marketing advantage gained by online American retailers and opted to mirror their strategy. (Of course, once all firms make the same decision then you can make a case for a competitive advantage by switching to another strategy as long as they can justify it in their marketing).
Perhaps, this is best imagined by considering what happens if you owned a business that does not take part in a Black Friday event; your competitors get an increased footfall and are made to look generous with their offers, whilst you get busy arranging the tumbleweed. However, there are clearly other advantages to businesses.
As an economist, I should be wary of 'free lunches' but there I was, trying to purchase a digital radio when I was not even sure I wanted it. The opportunity seemed too good to turn down. After I failed to buy it, I checked further and discovered it was an old model with poor reviews. By putting it on limited offer the retailer had made it seem 'exclusive', but by announcing the offer so late and giving me little time to buy, they had reduced my ability to search for further information, whether it is prices of other retailers or the quality of the good – a situation only worsened with physical sales.
The baying mob waiting for the doors to open on a Black Friday sale are going to be attracted to goods with the biggest discounts; they are not going to stop to consider their actions and look for further details of the product. The nature of these deals increases the cost of my search – we can consider this in monetary terms as the information cost that I bear - because a moment of pause is the difference between getting the deal or not. Suddenly the search for information is expensive.
If I value a good at £300 (a valuation influenced by the good's former price) and I only have to pay £200 for it then I am £100 better off. By not purchasing that good, I am missing out on that 'extra £100' and any other benefit that the good could give me. However, this simplistic view of the surplus of a consumer ignores the other costs of buying. On a normal shopping day, one expects to be able to walk into a store and make a purchase with minimal fuss. On Black Friday, the consumer has to get to the store early to queue for the doors to open, deal with the uncertainty of what might be on offer and then manage the stressful nature of the rush. Even online deals may have aspects of these issues. That £100 gain soon erodes when you take into account the cost of time and that is without considering the risk of physical injuries(!).
Many of the goods offered on Black Friday are characterised by their durable nature. When I purchase a TV I will use it many times over several years. These durable goods present something of a challenge to firms, particularly where discounts are concerned. If these goods are regularly discounted then the rational response for consumers is to wait for the lower price before purchasing. However, if the discounts are unpredictable, limited, and come with other costs then delaying purchasing may not be rational.
Durable goods by nature do not need to be bought too often, which means businesses that sell them have a problem. However, if firms continue to innovate and create new features then consumers will purchase new versions, even when the old one still works fine. This can leave businesses with warehouses full of old products, but Black Friday offers the opportunity to dump soon-to-be outdated products and look generous whilst doing it (a fuller analysis of this issue requires a more sophisticated treatment of manufacturers and retailers).
If the gains from these discounts are not as large as expected and are quickly eroded, why then on the 27 November will we again see queues of people outside shops? We may even be about to get another year of record sales, but the intensity is due to change. With the novelty of Black Friday and people being unaware of the wider cost and aforementioned firm strategies, consumers will be initially fascinated and participate.
Within a dominant austerity narrative, when financial cuts are sought in spite of the extra costs that they will place upon wider society, it should not be a surprise to find such behaviour mirrored on a micro scale. However, shoppers will become wiser and with new information, they are likely to react by becoming suspicious of Black Friday and alter their behaviour. It's not entirely about 'shopper fatigue' but maybe, just maybe, Asda has foreseen the decline.
Contact us
If you would like to get in touch regarding any of these blog entries, or are interested in contributing to the blog, please contact:
Email: research.lubs@leeds.ac.uk Phone: +44 (0)113 343 8754
The views expressed in this article are those of the author and may not reflect the views of Leeds University Business School or the University of Leeds.