How to help healthcare workers from BAME backgrounds during the pandemic
Workplace Behaviour Research Centre
Adaptation Information Management and Technology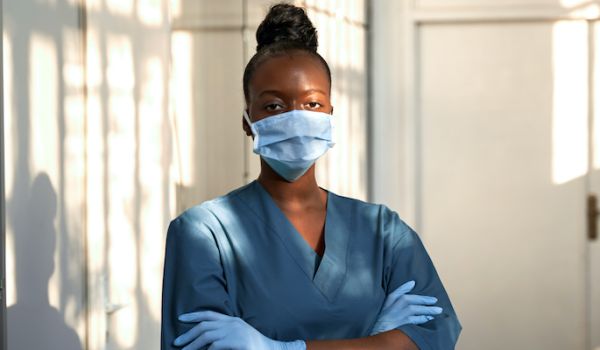 The role of the Black, Asian, Minority and Ethnic (BAME) workforce is critical to the NHS both on the front-line and in the community. However, the health and social care staff of BAME backgrounds have been hit particularly hard by COVID-19, with a higher death rate and higher anxiety level than other groups.
Yet, the minority ethnic staff account for a substantial proportion of the workforce in the NHS. Although there has been substantial attention and support from the Government to help healthcare workers at NHS organisations, less attention has been paid to minority ethnic staff and their mental and physical wellbeing. Therefore, our UKRI-funded project investigates how to help healthcare workers from BAME backgrounds in the NHS during the pandemic.
We interviewed 21 participants with different ethnicities and cultural backgrounds (eg Asian, African – British, Asian– British), at different positions (e.g., frontline employees or middle-level managers). Our interview results consistently demonstrate that ethnic minority NHS colleagues call for more practical (eg sufficient PPE) and mental support (e.g., compassionate about employees rather than just ticking boxes for the risk assessment) from the NHS.
Our findings, therefore, lead to the following set of HRM practices and policy recommendations to transform the support given to BAME employees and the creation of an implemented training framework and educational resource pack for NHS managers and all staff.
Top-level/HR practice:
Promoting inclusivity by involving everyone and emphasizing the contribution minority ethnic staff are making to the NHS.
a) NHS Trusts could do more to promote and communicate to all staff positive messages about the contribution that overseas/minority staff are making to the NHS. Expressing gratitude will make the minority ethnic staff feel that their effort is recognized and appreciated, and hence will be more willing to keep working hard and overcoming challenges.
​​​​​​​
Equality training/switch mindset.
a) At the moment, there is mandatory equality and diversity training for everyone, however, it did not stop the experiences with bullying that many BAME staff had. The vast majority of staff do not do any training apart from those that are mandatory. The NHS must make efforts to assist and train supervisors for appropriate workplace behaviours while further communicating clear policies to correct behaviours that comprise social undermining.
b) Viewing diversity as an opportunity and strength, rather than weakness; understanding the benefits a diverse workforce brings to an organisation.

Promoting more representation from BAME staff in leadership positions. Promoting and marketing successful BAME staff role models via different media, such as newsletters.
a) Providing more accessible and transparent communication channels for BAME staff to reach out for support.
Middle managers:
Reciprocal mentoring: Some BAME employees are unable to realise their full potential in their job as there is no encouragement and opportunity given to them. They need mentoring to get guidance and feedback on their jobs. Both BAME and white mentors are needed.

Ensuring minority ethnic staff are aware that support networks exist, and get time to get involved in network activities.
Employee level:
Soft support: The NHS minority ethnic colleagues wished that they could get equal empathy as other colleagues after returning from sick leave. The reason for not receiving equal empathy and compassion may not be because they are discriminated against, but because their managers and colleagues do not know how to express concern in a way that doesn't feel like racism. We encourage NHS staff to be more culturally intelligent, more compassionate and express more concern for minority ethnic workers, specifically those who are struggling with family, financial difficulties or health issues during the pandemic.

Hard support: Some minority ethnic staff could not get access to the internet or computers at home. We suggest that the NHS should enhance their information accessibility policy by offering a more inclusive digital infrastructure.
---
This research is funded by the Economic and Social Research Council (ESRC), as part of UK Research and Innovation's rapid response to Covid-19. Grant Reference ES/W001780/1. The project builds on work conducted through a UKRI Research England QR Strategic Priorities funded project (December 2020 – March 2021).
Visit the project webpage for further information.
The views expressed in this article are those of the author and may not reflect the views of Leeds University Business School or the University of Leeds.