Congratulations to Dr Jack Daly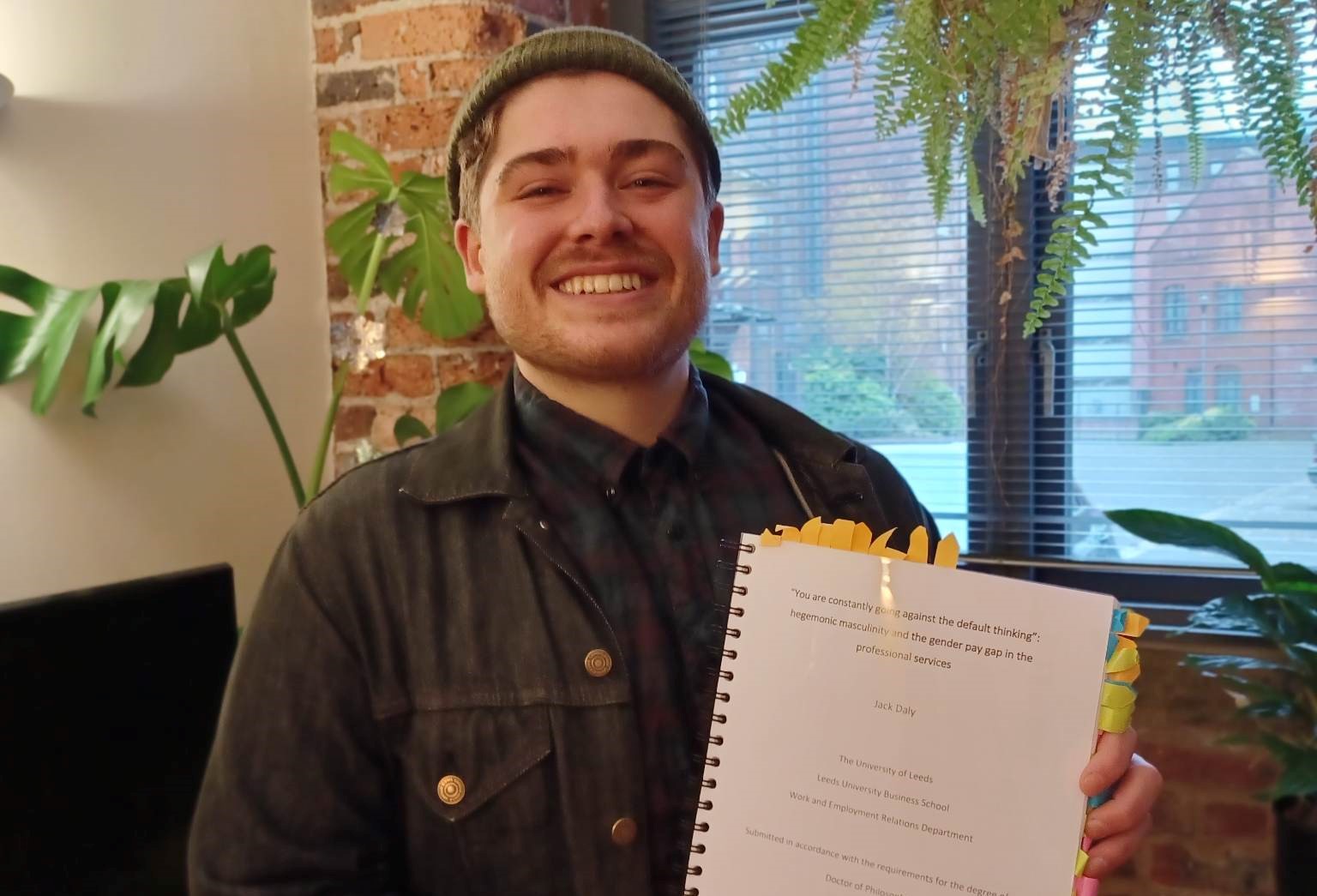 Jack defended his thesis on 8 December 2022 and passed without corrections.
It is a tremendous achievement for Jack Daly, especially given his cohort began fieldwork as COVID lockdown restrictions began.
Delighted to say that on Thursday I defended my thesis with no corrections and can now be very annoying to all my friends by only responding to Dr. Daly for at least the next three months. A huge thank you to my examiners for making the viva a genuinely enjoyable experience. I want to also thank my supervisors Ioulia Bessa, Vera Trappmann, and Jennifer Tomlinson for their constant support, guidance and expertise they have given me over the past four years.
Jack felt a lot of ground was covered in the viva and said he found it enjoyable once the nerves settled so thanks go to his examiners' Professors Jane Holgate and Louise Ashley for providing a challenging, constructive and positive experience.
The core takeaway from Jack's thesis is that for financial and legal services to meaningfully tackle the gender pay gap, there needs to be true value placed upon skills and experience that deviate from the norm. Careers assume an innate ability to work extreme-long hours compounded by a need for out-of-work professional networking to progress, underlined with shifting performance targets towards entrepreneurial skills over technical abilities. Any deviations from these narrow definitions incur penalties across the careers, risking the movement to "glass bubbles": occupations that are isolated from organisational hierarchies and wider industry career trajectories, often incurring an immediate pay penalty and a distinct lack of progression opportunities.
Additionally, there is a vital role for men in both the gender pay gap and in wider EDI spheres to throw their support behind initiatives, whilst also taking steps to recognise the structures that we ourselves benefit from which concurrently penalise women in the workplace. Once this is done, we can collectively start implementing meaningful strategies to remove the barriers to progression faced within work and create more egalitarian careers.
Dr Jack Daly will continue his research as a LUBS Postdoctoral Fellow.