International Business students win National Trade Academy Programme Competition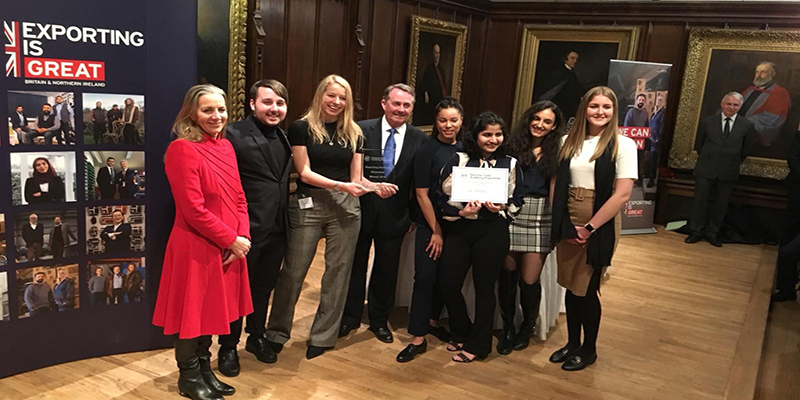 International Business students win 1st prize at the Exporting Heritage Showcase 2019.
Congratulations to our International Business students who fought off competition from a number of other universities to win 1st prize at the Exporting Heritage Showcase 2019, a competition organised by the Department for International Trade.
The competition, set in the beautiful surroundings of Durham Cathedral, required students to design a fashion brand, identify an international target market and devise an appropriate exporting strategy, justifying all the costs and benefits. Students then had to showcase their proposal through display boards followed by a presentation to a panel of judges.
There was a unanimous decision by all four judges to award the first prize to our undergraduate International Business students comprising of Ronika Alves, Sarah Glanville, Lauren Finlay, Matteo Rossi, Jahnavi Bansal and Neneh Kumar.
The judging panel commented:
"The team gave a very strong presentation, which was engaging, clear and professional. This was backed up by strong substance and content – from a clear pitch for the business and product; to detailed considerations given to marketing channels, supply chain risks and profit margins. The team were forward thinking in their provision of a handout to further highlight and promote their brand."
A team of postgraduate International Business students also competed and a team containing Fabian Brierley, Radhika Lakhotia, Nikita Levine, Alex Georgiou, Filippo Mencaglia, Utkarsh Gupta, Nancy Verra & Mingyue Yang was also commended for their detailed and well considered proposal.