Partnership awards success for Sean Gledhill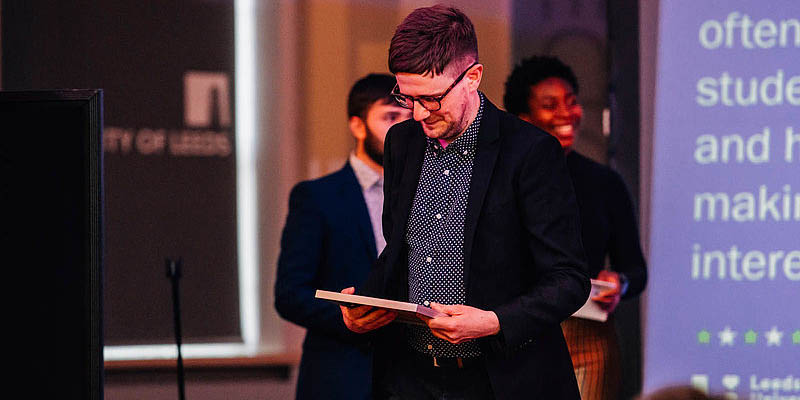 The University of Leeds Partnership Award for Innovation has been awarded to one of the Business School's Learning Technologists, Sean Gledhill, at a ceremony held on campus on 29 April.
The Innovation award is one of twelve awards that are presented at the annual Partnership Awards. The awards celebrate success in the context of 'The Leeds Partnership' – through which staff and students work together at Leeds to provide an exceptional learning experience.
As a Learning Technologist, Sean works alongside academic colleagues at the Business School to produce stimulating multimedia learning materials to enhance students' learning. He received multiple nominations that made reference to his role working on a large-scale teaching innovation project with the Economics Division, with one nomination describing him as "a treasure trove of ideas on how to make often abstract economics content appealing to students online".
Enhancement and Innovation Manager, Catherine Wilkinson commented:
"Sean is a great asset to the faculty and the Innovation award is the perfect way to show our appreciation and recognition for all of his creativity, determination and hard work. It also highlights how the Business School is leading the way across the University in terms of our implementation of technology and working collaboratively with the academics to jointly deliver an exceptional student education."
The Business School's Enhancement and Innovation team work collaboratively with academics at the Business School to identify, create and implement innovative and effective uses of technology to support business education, and to contribute to the delivery of an exceptional student experience.
The University received a record total of 2,262 nominations for this year's awards which were shortlisted by a cross-institutional panel of judges.