Students vote Leeds top three in the UK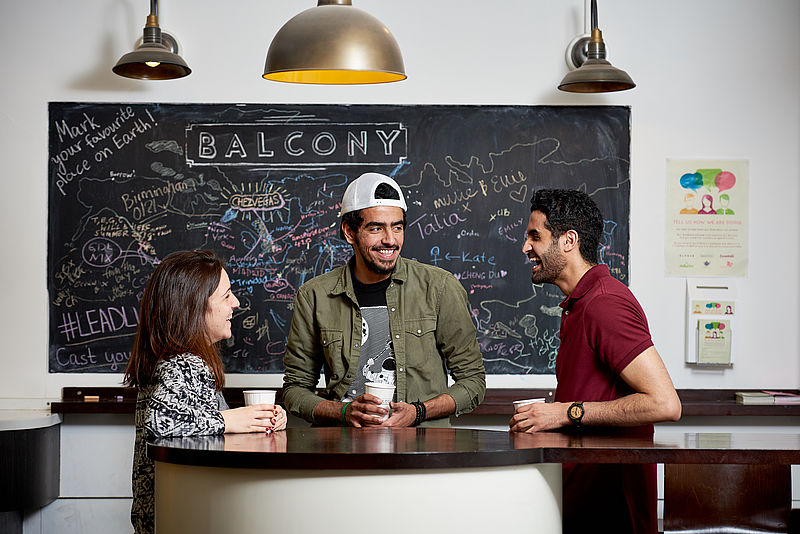 The University of Leeds has come third in the UK in a major survey that asks students about their experience while studying.
Leeds is also the highest ranked among the Russell Group of research-intensive universities and scores particularly highly for its campus environment, facilities and extra-curricular activities.
The Times Higher Education Student Experience Survey goes beyond the usual measures to ask students about the details of university life that matter to them the most.
Professor Tom Ward, Deputy-Vice-Chancellor: Student Education said: "This position is a wonderful tribute to the staff and students that make Leeds what it is: a University that excels in the quality of its teaching, its research, its international offer and – as this result testifies – in the way it nurtures its students by creating a supportive and friendly environment.
"I've been talking to and hearing about staff and students all over the University who consistently go the extra mile to get the most out of their time here and to help others to do the same. I am thrilled for them that Leeds has got this recognition."
Gold-standard teaching
Teaching and learning are key aspects of the student experience, and as well as success in the Times Higher survey, the University achieved a Gold rating in the first Teaching Excellence Framework (TEF) – the highest award possible.
The assessment said "students from all backgrounds achieve consistently outstanding outcomes" and that independent learning is supported by "outstanding physical and digital resources."
***
Here are some of the success stories:
Second year History student Harry Brown is a sports scholar who has been mentored by Head of Football, Steve Grimes.
The pair's paths first crossed eight years ago, when Steve coached Harry at Manchester City Academy. Harry went on to sign for York City, but when his playing career didn't progress, Steve was there to support him once more, this time encouraging him to apply to study at Leeds.
Harry now coaches several of the senior teams and works with a junior academy to pass on his knowledge to children aged four to 14.
Steve says: "I've seen him grow from a young player into a young man. He has been a great success here and I'm very proud to see him progress the way he has."
Harry is equally full of praise for the support he has received from Steve. He adds: "Coaching has given my confidence a massive boost, and having someone like Steve as a mentor has been a big part of this. I can go to him for advice on anything and my leadership skills have really grown.
***
Among the many achievements during her time at Leeds, final year Textiles student Lucy Guy has recently won a major competition run through the UK Fashion and Textiles Association and sponsored by Marks & Spencer.
She is quick to credit School of Design studio technician Ian Rees with the support he has given her in using the sort of high-tech knitting machinery used in industry.
"Ian is a lifesaver," she says. "We're lucky at Leeds because we have fantastic technology and people like Ian who work with us to understand it. At other universities students aren't allowed near this sort of equipment."
"Students here can programme their own piece of fabric and get an understanding of the machinery," says Ian. "This is hugely valuable as it puts them ahead of the game when they apply for jobs. It's quite unusual in the sector."
***
Holly Smith's dream of becoming a police officer has moved several steps closer since meeting University police officer PC Becky Hurrell.
The second year Law student decided to do a degree to give herself options, and chose Leeds because she could specialise in policing in the third year.
She also wanted to go to a Russell Group university close to where she grew up in West Yorkshire. "Leeds is perfect for me," she says.
PC Hurrell works with student volunteers such as Holly in the local community.
"Working with Becky has built up my confidence so much, and now I'm applying to be a Special Constable, which will be a great step on the path to becoming a police officer."
"Mentoring Holly is easy because she's clever!" says Becky.
***
Italian Laura Manzi is in her second year of a BA in English and Comparative Literature. "Student life is about so much more than studying," she says, "it's about the whole experience."
MSc Chemical Engineering student Ahmed Othman, from Yemen, agrees. "As international students, we wanted to study at Leeds because of its great reputation."
Ahmed and Laura work as International Activities Assistants with Leeds University Union and the University's International Student Office to help all students enjoy and benefit from cross-cultural experiences.
Volunteering is a key part of this, as Saudi Arabian Khalid Alnahdi found when he arrived to study English and got involved in sports-related activities.
Ahmed says: "Volunteering is a great way for students to make friends and there are such a wide range of activities, including working with children and older people in the wider community and sports."
***
The International Student Office also helped first year Sustainability and Environmental Management student Felisha Chong to get involved with University life.
She signed up to a food demonstration run by the Office and Great Food At Leeds to celebrate Lunar New Year.
"I want to understand more about the University and to meet new people. Student support at Leeds is really good. Taking part in events like food demonstrations is fun and a good way to feel a part of what is happening at Leeds," she says.
***
Liberty Anstead credits volunteering as a key part of her student life.
She helps out at Rooted – Leeds University Union's community food project – which supports local biodiversity, improves employability skills for students and creates strong links between them, the University and the wider community.
Speaking in a roof garden greenhouse, Kate Kirkpatrick, a part-time project assistant with Rooted, says: "There is an incredible sense of calm and wellbeing here, which students find really attractive.
"It can be daunting moving away from home to University. You can get stuck in the bubble of student life, but this is the perfect escape from all the academic pressures you can face."
Liberty, a second year English and Music student, says: "I come here because it's so relaxing and meditative. I love working with Kate and the rest of the team. Everyone is so friendly and supportive."
This year's overall score is comprised of scores from the past three years, which has seen Leeds rise from sixth place in 2016, fourth in 2017 and now enters the top three for the first time.