The Business School Partnership Awards 2019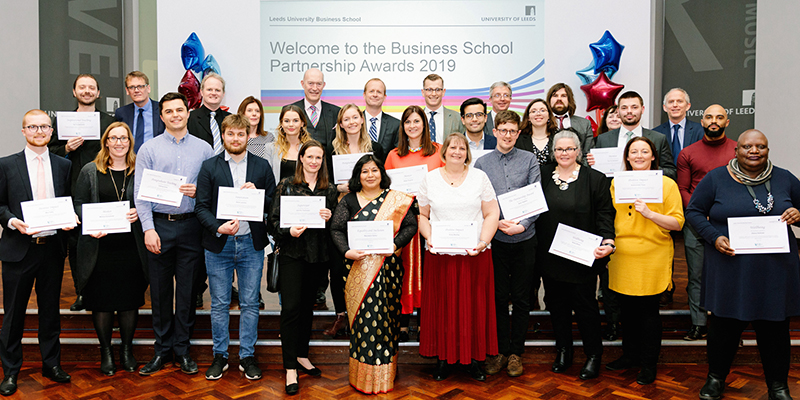 Congratulations to all the winners and runners up of the Business School Partnership Awards 2019, which were held this week in the Refectory.
This year we had an amazing twenty-two winners across twelve categories including Inspirational Teacher, Academic Rep of the Year and Positive Impact. The winners of The Partnership Award itself were School Representative Ronika Alves and Learning Technologist Sean Gledhill, who received seventeen nominations between them.
Executive Dean of the Business School, Peter Moizer, closed the ceremony and said the evening had been "a true celebration of the partnership we have between our students, postgraduate researchers, professional and academic staff here at the Business School".
The Faculty winners will go through to a final shortlisting stage for the chance to win at the University Partnership Awards Ceremony on 29 April.
Winners and runners up of 2019:
Academic Rep of the Year
School Rep winner: Ronika Alves (International Business)
Course Rep winner: Qianwen Yu (Management)
Equality and Inclusion
Winners: Kerrie Unsworth (Management) and Meenakshi Sarkar (Work and Employment)
Best Feedback
Winner: Peter Phelps (Economics)
Innovation
Staff winner: Sean Gledhill (Enhancement and Innovation)
Student winners: Emily Hollis (Management) and Taras Lanchev (Management)
Inspirational Teaching
Runners up: Henry Duncanson (Economics) and Murod Aliyev (International Business)

Winner: Tad Gwiazdowski (Economics)
Mentor
Winners: Melissa Schuessler (Marketing) and Helen Hughes (Management)

Student winner: Tim Knickmann (Economics)
Personal Tutor
Runner up: David Clark (Economics)

Winner: Tao Jiang (Marketing)
Positive Impact
Student runners up: Max Carty (Management), Eleanor Nutter (Management) and Jacob Siara (Accounting and Finance)
Student winner: Ziran Yang (International Business)
Staff runner up: Assessment Team
Staff winner: Nicky Woolley (Timetabling)
Postgraduate Teaching
Runner up: Cheryl Hurst (Work and Employment Relations)

Winner: Joshua Cave (Economics)
Supervisor
Runner up: Matthew Robson (Marketing)

Winner: Jennifer Tomlinson (Work and Employment Relations)
Wellbeing
Professional staff: Diana Holmes (Student Support team)
Academic staff: Nicky Bown (Management)
Partnership Award
Student winner: Ronika Alves (International Business)

Staff runner up: Nicky Woolley (Timetabling)

Staff winner: Sean Gledhill (Enhancement and Innovation)