She Leads: Looking back to International Women's Day 2020
We look back to International Women's Day 2020 and the four inspirational women, all staff, students and alumni of the University of Leeds, who took part in a panel event at Leeds University Union.
In March 2020 Leeds University Union welcomed Founder of Love In Care and Business School alumna Aqila Choudhry MBE, Business School alumna and Chief Operations operator at Wizu Workspace Natasha Babar-Evans, Muslim Chaplain at the University of Leeds Farhat Yaqoob, and nursing student and Student Union liberation co-ordinator Yas Khanagha to discuss their personal, professional and educational experiences. Rebecca Barclay, final year law student moderated the panel discussion. The event was part of the World Unite Festival at Leeds University Union and sponsored by the Business School.
The theme for the discussion, Challenging Gender Bias in the 21 Century, saw the women speak candidly to the audience on the challenges that they, as females from different backgrounds and cultures, have faced and overcome throughout their professional and personal lives. They provided words of advice, encouragement, and empowerment to help women and allies to overcome gender discrimination, make a positive difference in the world and achieve success. Below are some of the key themes discussed:
On imposter syndrome: 'Take ownership of what you want'
Imposter syndrome, the feeling of inadequacy, incompetency and disbelief in the face of a deserved achievement, was addressed by the panellists as a common experience for women in work and at university, in the presence of existing patriarchal structures in business and society.
Aqila Choudhry MBE spoke of this personally. As the daughter of immigrant parents who found herself in a difficult position in her twenties, Aqila eventually secured a senior role working for a charity before establishing her own business, and admitted that she felt for a while that she was out of place in her senior roles. While admitting that the feeling of imposter syndrome can be hard to snap out of, Aqila encouraged women, and allies, to 'take ownership of what you want and take the steps to achieve it'.
Natasha Babar-Evans explained that she has a list of banned negative words in her workplace, such as 'about' 'sorry', 'maybe' and 'perhaps'. Encouraging the use of more assertive language, she explained, encourages self-belief and self-confidence, particularly for women who may lack the confidence in their own abilities.
All panellists encouraged the sourcing of support from peers, mentors and people who inspire you career development advice, and to build confidence in the ability to thrive and compete in the world of business or work.
On the gender pay gap: 'Challenge in the right way'
Natasha Babar-Evans spoke of personally experiencing the effects of the gender pay-gap when working in financial services. Natasha's advice for dealing with gender discrimination in pay on a practical level was to 'challenge in the right way: use reason and logic'.
She went on to explain that while it may be easy to become angry or upset with your employer, by approaching the subject rationality, by for example, asking for what you could have done, or could do differently, to achieve the higher salary and by presenting your achievements calmly, you are more likely to be met with reason, logic and fairness. This advice, she hoped, could help women practically on an individual basis to navigate unfair payment scenarios.
On motivation and resilience: 'Start with your why'
Motivation and resilience were key qualities highlighted by all four women in achieving career success. Farhat Yaqoob, Muslim chaplain and student advisor at University of Leeds, discussed faith as a key guiding force in her work and life following a spiritual awakening. While Farhat has experienced significant highs and lows in her professional career, she now provides a valuable service to the University in providing spiritual guidance to Muslim students, and has established the Unity Network, which provides wellbeing events to University staff through regular gatherings. Yaqoob emphasised passion, vocation and helping others as her guiding force and strength in finding the right path.
In navigating life and career choices, Natasha Babar-Evans also emphasised passion and motivation as a critical factor: 'Start with your why'. She explained that as if the passion and motivation in a career or life choice comes first, when things get difficult, it can be much easier to persevere rather than giving up.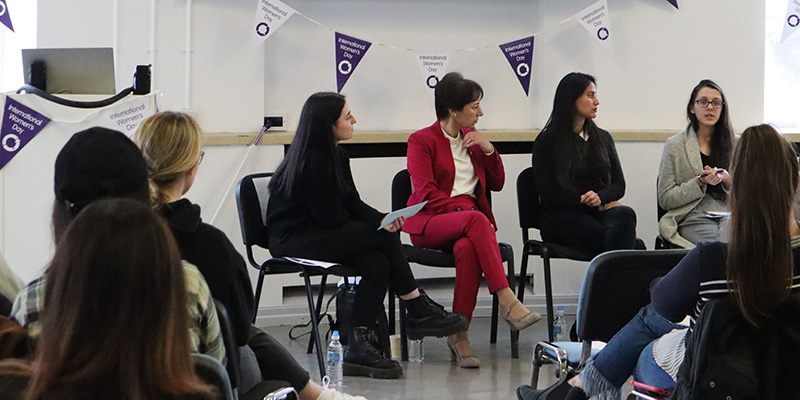 On unconscious bias and overcoming stereotypes: 'Lower the ladder'
When discussing inclusive workspaces, all panellists spoke of important steps to take in order to 'lower the ladder' and give marginalised people equal opportunities to work their way up in work and life. Farhat Yaqoob encouraged employers to ask questions to minority groups and people with different needs on how they can create more opportunities or inclusive spaces, admitting that it is okay not to know automatically.
Both Aqila and Natasha, who employ in their organisations, seek to give opportunities to those who deserve them and encouraged others to do the same. Natasha explained that employers should use a structured interview process to ensure any unconscious bias is eliminated. Aqila, who runs a health and wellbeing care service in the community, however, explained how she tailors interviews structure and formality to suit the specific needs, for example language abilities, of the interviewees. The two panellists agreed on the need for flexibility depending on the role and needs of the candidate.
Yas Khanagha, nursing student in the School of Healthcare, spoke about the need overcome gender stereotyping in the world of work. Nursing, she explained, was something perceived to be 'feminine' and attracted overwhelmingly female applicants, as well as very little BAME and LGBTQ+ representation. In overcoming gender stereotypes in the nursing industry by widening access and encouraging participation, it is Yas's hope that other sectors will follow suit.
The 'She Leads' panel was organised by six University of Leeds student intercultural Ambassadors: Lucy Darragh, Nessa Lee, Louisa Kamajaya, Ka Ho, Yui Kanaoka, and Samantha Nouvel, under the joint mentorship of Business Faculty International Manager Ellen Wang and Dr Alexa Athelstan-Price from the International Student Office. Ellen Wang commented:
"I am thrilled that due to the commitment and passion of the student intercultural ambassadors this year, and the engagement of multiple stakeholders across the university, we were able to deliver such a successful event for this year's International Women's Day.
One point to take away from the experience is that it is not our differences that divide us. It is our inability to recognise, accept and celebrate those differences.