Alumnus celebrates 'Highly Commended' at the Global Undergraduate Awards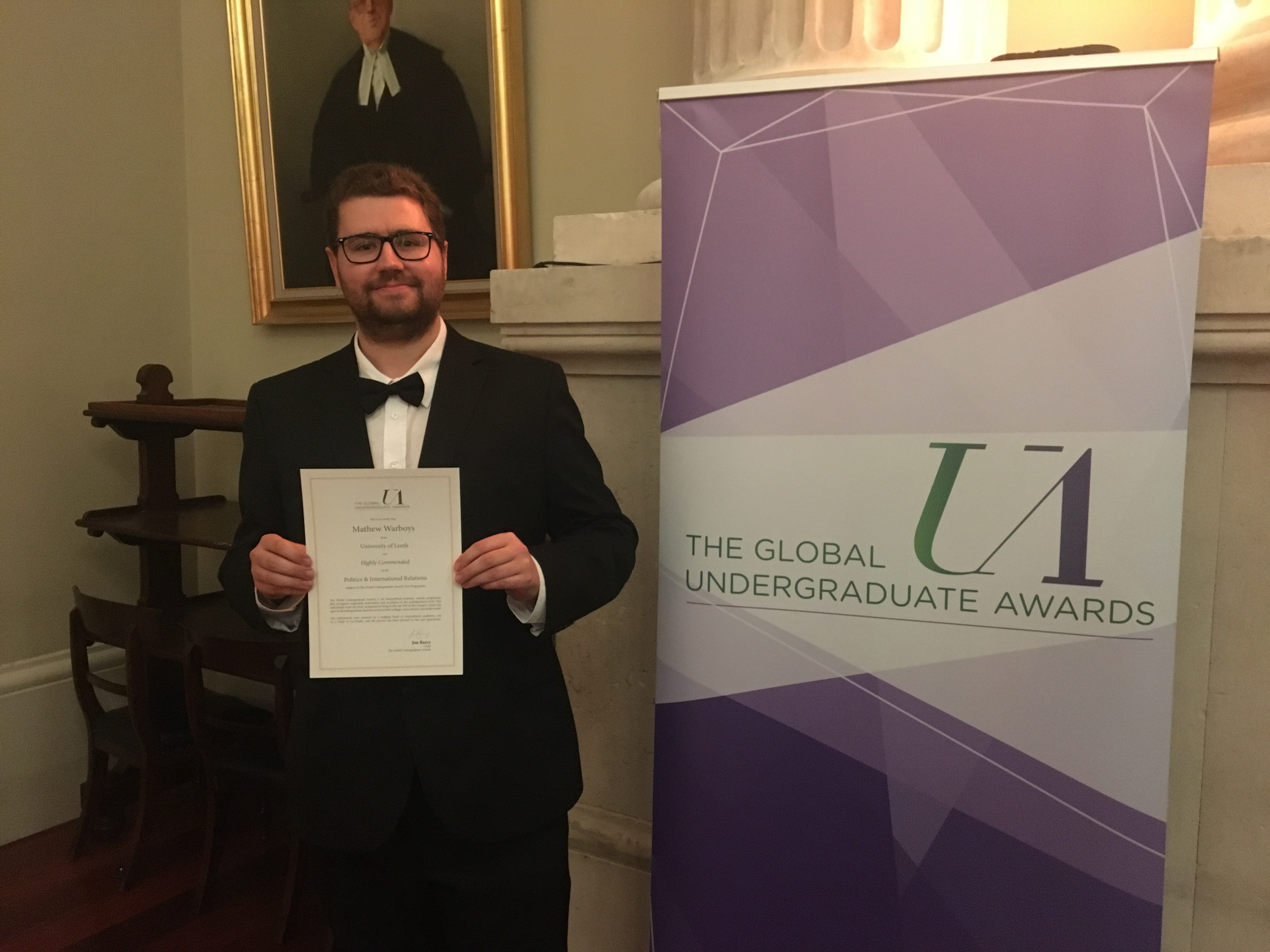 Mathew Warboys attends the Global Undergraduate Awards for the second time after winning his third 'Highly Commended' award.
The Global Undergraduate Awards (UA) is the world's leading undergraduate awards programme which recognises undergraduates' work from across the globe. Each year the UA coordinates a programme for students who are either in their penultimate year, final year or have graduated within the programme year. This is a platform to share their work with a global audience and connect students across different cultures and disciplines.
Mathew Warboys (First Class, Economics and Politics 2018), a Leeds University Business School alumnus, attended the summit on 11-13 November 2019 in Dublin. Mathew Warboys was recognised as 'Highly Commended' within the Politics & International Relations category, having been named as 'Highly Commended' in Economics in 2014 and 2015, and went on to enjoy an Awards Ceremony and Gala Dinner evening at The Honourable Society of King's Inn (in order to celebrate their achievements and further connect with students from across the globe).
On his time at the event, Mathew commented:
Having attended the Global Summit in 2015, I was extremely determined to be able to land my third Highly Commended paper with the UA, in order to ensure that I could get myself back to Dublin. I am, therefore, pleased to be able to say that my second Global Summit lived up to the expectations... It has been a huge honour and privilege to have been so connected with the UA!
Mathew is currently a Freelance Writer, and the Founder and Owner of "MW Editorial Services" (a firm that offers, for example, proof-reading to a number of different clients). For enquiries, or requests for collaboration, please contact Mathew on either: mw.writing.enquiries@gmail.com or mweditorialservices@gmail.com.
At the same time, Mathew would welcome a connection on LinkedIn.