Prestigious appointment for Leeds academic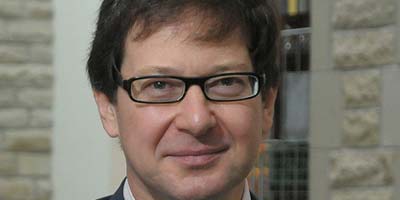 Professor Jeremy Clegg is to lead one of the world's most prestigious business academies.
Professor Clegg, Jean Monnet Professor of European Integration and International Business Management at Leeds University Business School, has today (1 August) been appointed President-elect of the Academy of International Business (AIB).
He will become AIB President in February 2020.
The AIB has a global membership of close to 3,500 scholars and specialists engaged in scientific research to advance public understanding and policy making with respect to international business.
Professor Clegg said:
I am honoured to have been asked to lead the Academy of International Business, which is preeminent in its field. The AIB is global in outlook, with members drawn from 94 countries, and leads the way in the creation and dissemination of new knowledge about international business and its impact on people. The world is going through a period of unprecedented change as the forces of globalisation and free trade – which have underpinned the global order and economic growth for decades – come under pressure. The AIB is ideally placed to help us understand what is happening, what may follow and how policy makers need to respond for the betterment of society. My appointment reflects the high esteem in which Leeds University Business School is held. The Centre for International Business University of Leeds (CIBUL) is the leading centre for international business in the UK, and among the top centres worldwide.
Professor Clegg joined Leeds University Business School in 1996, serving as head of the Division of International Business from 2000 to 2008 and Director of CIBUL from 2009 to 2015.
His research looks at foreign direct investment (FDI), FDI and regional integration, outward FDI by emerging economies, particularly China, and the impact of social factors within international business.
The AIB was established in 1959 and is based at Michigan State University. Its membership is drawn from scholars at the leading global academic institutions as well as consultants, researchers, government and NGO representatives.
The AIB's flagship publication, the Journal of International Business Studies (JIBS), is the leading journal in its field – now joined in 2018 by new a sister journal, the Journal of International Business Policy (of which Professor Clegg is an associate editor). The Academy has 17 chapters around the world, on every continent.
Professor Clegg said his priorities as President are to increase membership and build AIB's regional profile and presence with local and area-based workshops and thematic conferences to complement the annual regional chapter meetings and annual worldwide meeting of the Academy.
He said:
The global reach of AIB is a huge asset, and an advantage for an academic organisation that is aiming for membership growth. Research methods workshops that train new and experienced scholars to take part in international scientific debate at the highest level will give voice to all AIB members, regardless of whether they are in developing or advanced economies. AIB will help the world work together on the biggest problems of our day, many of which are international in nature and inextricably linked to international business, not least climate change.
Professor Clegg is available for interview. Please contact: Catherine Reaney, External Communications Manager, Leeds University Business School: c.a.reaney@leeds.ac.uk or 0113 343 4478.