Business School Partnership Awards 2018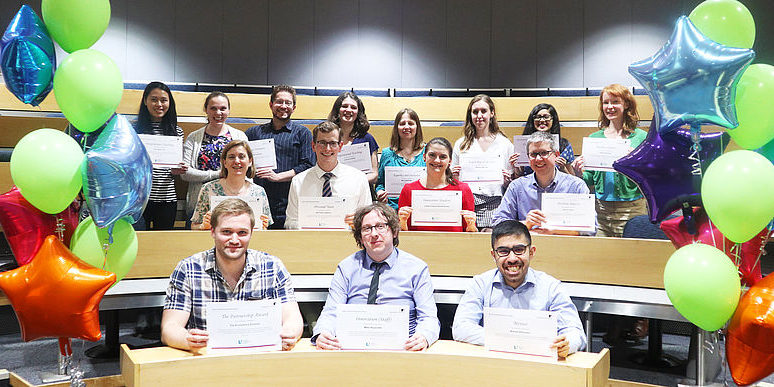 Congratulations to all students and staff who were successful at the Partnership Awards last week.
The Leeds University Business School Partnership Awards recognise and celebrate the achievements, commitments and impact of students, staff and postgraduate researchers at the Business School.
There were 20 winners and runners-up across 12 categories, ranging from Best Supervisor to Academic Rep of the Year. On closing the ceremony Peter Moizer said, "It's been so wonderful to hear all the glowing testimonials of our staff and students. Listening to the exceptional work they are doing fills me with pride."
The winners from each Faculty were shortlisted for the University of Leeds Partnership Awards, which took place on Monday 23 April. We can now confirm that our very own Helen Greaves (Economics Division) received the award for Positive Impact! Well done Helen.
Winners and runners-up
Academic Rep of the Year: The student representative who has actively worked in partnership with others to secure positive, student-led change that makes a real difference to both students and staff.
School Rep: Rebecca McCaw (Economics)
Course Rep: Nikita Wad (Economics)
***
Innovation: The person who uses innovative methods and approaches to engage and excite others; such as through embracing new learning technology or through presenting challenging ideas in a way to spark discussion to further the understanding of a subject area.
Winner: Mike Reynolds (Economics - staff)
Runner-up: Leeds Finance Summit Group (Accounting and Finance - students)
***
Inspirational Teaching: The person who has used their passion and dedication for a subject area to inspire others to be ambitious, enthusiastic and challenged to develop new ideas.
Winner: Juliane Scheffel (Economics)
Runner-up: Militza Callinan (Work and Employment Relations)
***
Equality and Inclusion: The person who has championed diversity and inclusion across the Business School. The person who has made an exceptional effort in supporting a diverse and inclusive environment.
Winner: Peter Hughes (Economics)
Runner-up: Maria McCabe (Management)
***
Mentor: The person whose guidance and direction has helped others develop their skills and prospects for the future, or who has enabled them to remain on their course.
Winner: Nabeel Alhassan (Marketing)
Runner-up: Wandi Bruine de Bruin (Management)
***
Personal Tutor: The personal tutor who does their utmost to support their students, promoting engagement with academic and co-curricular activities, and facilitating their personal development.
Winner: Nicholas Jephson (Work and Employment Relations)
Runner-up: Emma Liu (International Business)
***
Postgraduate Teaching: The PhD candidate who, while conducting their own research, has also actively and exceptionally contributed to other students' education as a module assistant, seminar leader or demonstrator.
Winner: Chau Minh Chu (Economics)
***
Supervisor: The dissertation or thesis supervisor, who has guided and inspired others to push the boundaries of their research for a dissertation, final year project or thesis.
Winner: Hanna Gajewska-De Mattos (International Business)
***
Best Feedback: The person who provides invaluable and supportive academic feedback, in both content and delivery method, which helps others to develop and excel in their work.
Winner: Gulbanu Kaptan (Centre for Decision Research)
Runner-up: Emma Liu (International Business)
***
Wellbeing: The person, staff or student, who has helped to raise the awareness on welfare issues across the campus or city, or who has gone above and beyond to support and signpost others at Leeds.
Winner: LUBS Student Support team (Faculty)
***
Positive Impact: The person who has made an exceptional difference to others' experiences through an outstanding contribution to their School, Faculty, Department or Service.
Winner: Helen Greaves (Economics)
Runner-up: Hinrich Voss (International Business)
***
Partnership Award: This award is decided by the shortlisting panel and given to the person or people who have been deemed to have had an exceptional impact. This is often represented in the broadness and quality of nominations received.
Winner: Economics Division