Connecting students with alumni: Entrepreneurial lessons from alumnus Rev Murugesan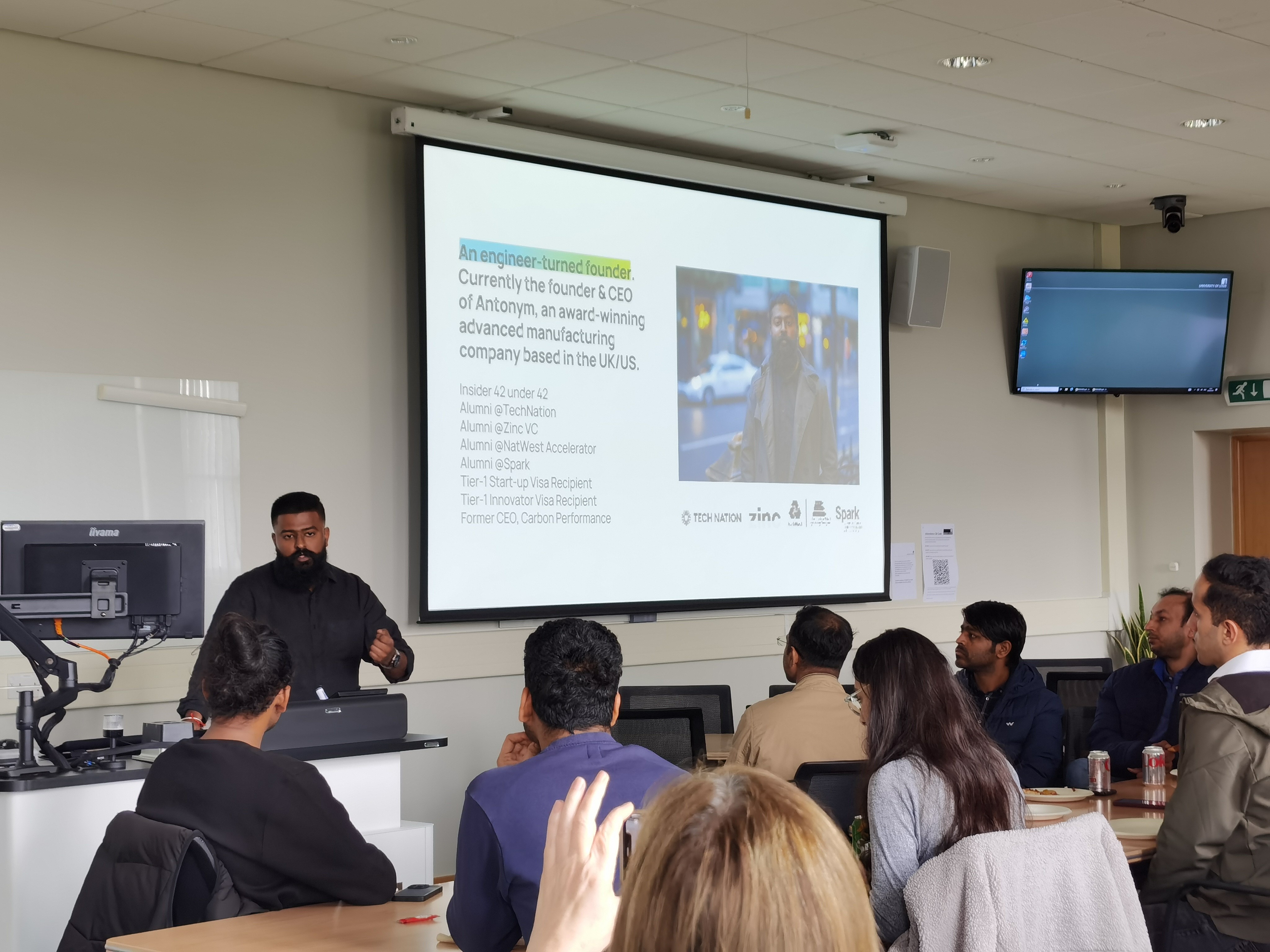 Alumnus Rev Murugesan (MSc International Business, 2017) returned to the Business School in May 2023 to share his inspiring career journey with students and offer them advice on becoming an entrepreneur in the UK. This was a hugely popular topic and Rev had many questions from them afterwards.
Originally from India, Rev was able to provide first-hand advice on how to take advantage of different opportunities, as well as the numerous obstacles that he had overcome during his career so far. Although sometimes things didn't work out as planned, he emphasised the significance of purpose and aligning core values ("four Ps": Purpose, People, Product, and Profit) with his business for success.
As the CEO of Antonym, a thriving start-up in 3D printing industry, Rev was clear about the impact Leeds, and in particular the SPARK programme, had had on his professional growth.
In addition to sharing his entrepreneurial journey, Rev introduced the resources on incubators, accelerators, ecosystem, visas and industrial events to encourage student to kickstart their entrepreneurial journey in digital technology.
Lastly, Rev offered pivotal advice to the students:
• Falling forward – Success is always less funny than failures. Fail fast and iterate quickly
• Be like water – Go with the flow. Change is the only constant, so don't resist change
• When in doubt, zoom out – Don't sweat the small stuff. I learnt this the hard way with a health scare
• Sell shovels, don't dig gold – Sell tools that will help others solve their pressing issue with ease
The discussion was part of the Business School's 'Lunch with alumni' event series which sees graduates and students coming together to discuss career paths, the road to employment and development in industry.
If you are interested in getting involved with future events, please get in touch at alumni@lubs.leeds.ac.uk