Raising awareness of sustainable catering on campus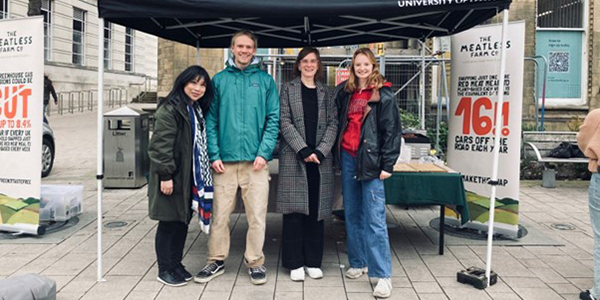 Student Sustainability Architects designed and delivered a vegan tasting event on campus during Climate Week in March.
Economics students, Jessica Finnamore and Jamie Tickel, put on the event in partnership with Meatless Farm in a drive to introduce more vegan and vegetarian options on campus, and move towards more sustainable catering decisions.
The project was part of their tenure as Sustainability Architects and was led by Director of Sustainability Professor Vera Trappman and Lecturer in Marketing and Staff Sustainability Architect, Sally Chan.
The event saw 400 meatless burgers eaten in under two hours, and was well received by those who queued to get their free samples.
Jessica commented: "Since starting the role, we have become more aware of the amazing plant-based options on campus but believed that this was not common knowledge to the wider student population. To promote these vegan options, we decided to run a sales promotion with Meatless Farm, a Yorkshire-based vegan meat alternative brand that is already an important supplier to the University of Leeds.
"This was a great way to get people to try burgers that they might never have tried otherwise, and for people to discover that consuming a vegan diet doesn't mean missing out on eating delicious food."
Find out more about sustainability at the Business School here.