Celebrating Research with Impact
Leeds University Business School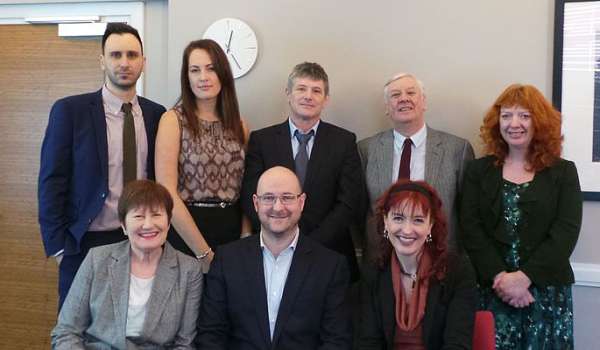 Leeds University Business School hosted its first Research with Impact Awards last week, celebrating impact achievements across the School.

Dr Kathryn Watson, Research Impact Manager, comments "Our Research with Impact Awards are a way of recognising and rewarding those who have led particularly impactful research activities. We received many excellent applications which is testament to the increasing commitment to research impact here within the Business School."

The judging panel comprised: Professor Catherine Cassell, Deputy Dean; Professor Vera Trappmann, Associate Professor in Work and Employment Relations and member of the Faculty of Research and Innovation Committee; Dr Jo Cutter, Research and Engagement Manager and Dr Kathryn Watson.

The following considerations were made by the judges:
The significance and reach of the impact, the importance of the topic and the extent of the impact achieved beyond academia
The strength of collaboration with external partners and indication that impact evidence either has or can be readily obtained
The successful translation of the research into some useful tool or management output (eg. a toolkit, an application, a continuing professional development package or a model for use by intermediaries)
Strong evidence of research publication with high potential for economic and/or social impact and clearly defined pathways for achieving the expected impacts
And as a separate category:
Exceptional impact achievement by an early career researcher incorporating some elements of any of the above
The Research with Impact Award winners are:
Professor Wändi Bruine de Bruin: Consumer surveys informing monetary policy
Professor Peter Buckley: The governance of multinational enterprises
Dr Simon McNair: Using behavioural insights to develop more effective financial support provision (Early Career Researcher Award)
Professor Nick Wilson: Access to finance for business growth, innovation and working capital: research influence on Government policy and legislation
Professor Matthew Robson, Professor Jeremy Clegg, Dr Vita Kadile, and Dr Kathryn Watson: Best-in-class international franchising*
Dr Aristeidis Theotokis: The effect of shopping mission-based assortment organisation on purchase behaviour and store performance*
*Shared award for the retailing sector

At the awards event, the winners each gave a brief presentation on their projects. The event was part of the Research with Impact seminar series – the Business School's cross-faculty and interdisciplinary programme that provides an opportunity to discuss applied research and impact with academic colleagues.

Over the next few days we will feature an overview of each of the winners' research activities on the blog , so make sure you revisit the website to find out more about the award-winning impactful research going on within the School.
Contact us
If you would like to get in touch regarding any of these blog entries, or are interested in contributing to the blog, please contact:
Email: research.lubs@leeds.ac.uk Phone: +44 (0)113 343 8754
The views expressed in this article are those of the author and may not reflect the views of Leeds University Business School or the University of Leeds.