Moving from Industry to Academia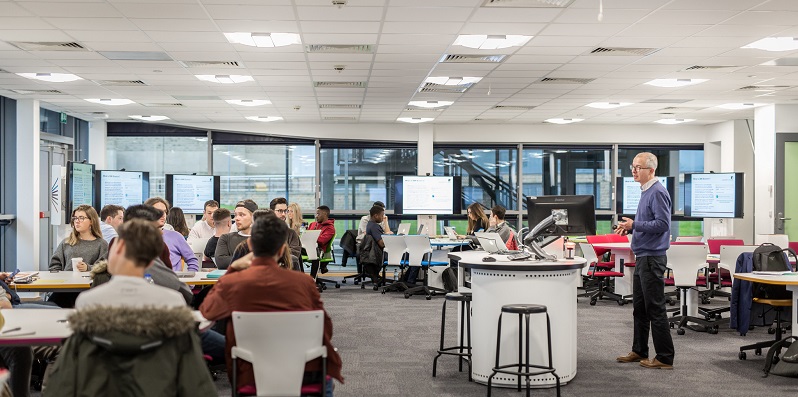 Associate Professor in Innovation Management Practice, Tony Morgan, shares his experiences of the transition from industry, as a leading figure at IBM, into academia.
A couple of months ago my life changed significantly. After working for IBM for over 20 years, I took up a position as an Associate Professor in the Management Division at Leeds University Business School.
It's quite a big move. How did it come about?
My career in IBM morphed over the years from being a technology specialist to an architect and then chief architect and eventually Chief Innovation Officer and Industry Technical Leader for IBM business units. One thing I always enjoyed was working with early career professionals.
In recent years, I've had the privilege of training the next generation of IBM's technical leaders. Whilst others have focused on helping the graduates, placement students and apprentices develop their technical skills, my focus was on developing their innovation and softer skills, including the "3-C's" of commercial awareness, collaboration and communication skills.
I'm proud to say I was part of the IBM UK team who established the highly successful IBM Digital Skills Academy. In particular, I was the person who steered the programme into also focusing on delivery of short sharp client innovation projects, which address real-world IBM client business challenges. And yes, I still feel a glow of pride when I see something on LinkedIn about one of these projects.
In parallel, between 2016-19 I had the fantastic opportunity of being a Royal Academy of Engineering (RAEng) sponsored Visiting Professor at the University of Leeds. During this time, I delivered guest lectures and ran workshops, but more than that I led the creation of two new modules, which gave me a much deeper insight into end to end teaching and learning processes.
The first module, Innovation Management in Practice, is designed for masters and PhD students. I was tasked with assisting the academic team create this module with the challenge of teaching students what "Innovation Managers" really do and providing them with the practical skills to do it. The development and evolution of this module, and inputs from a series of academics, has been fascinating.
The second module has really been my "baby" from inception to delivery, although I've had great support from the academic team. I designed the Innovation Thinking and Practice module specifically for final year undergraduates from different schools and faculties. We have a core of Management and International Business students from the Business School and Computing students from Engineering. This year we've expanded, and now include students from courses as diverse as Product Design, Law, Neuroscience and many others.
The students work in small diverse teams. Each team is assigned a real industry innovation challenge, and access to a senior external industry expert. In 10 weeks the students must research their challenge, understand the needs of the end users and their sponsor, develop an idea, prototype and business value and finally pitch to a very senior audience. There's a lot more to it than that of course, but I'll go on too long and this blog will never end.
The learning is very hands-on, with a focus on practical innovation and employability skills, including the "3-C's" mentioned above creative problem solving and managing change.
We're now in our third year. I've loved the ideas and outputs from every single team. Of course, marking the students' 3,500 word essays afterwards is hard work. But I get such a buzz when I see students confidently engage with senior leaders from business and academia, and reading their brilliant insights and lessons earned from the module.
The RAEng Visiting Professorship is a three-year appointment, and all good things must come to an end. Thankfully during 2019, both the University and I wanted to continue the relationship. And so I was delighted to apply for and accept a role as an Associate Professor in Innovation Management Practice.
I left IBM with many happy memories, and many friends, some of whom now provide guest sessions for the University. My IBM management team and the company encouraged my Visiting role, and the time spent delivering it made my transition from "IBMer" to academic much easier.
Whether working in industry or academia, it's great to support bright young people, such as the fantastic students at the University of Leeds. One of my ongoing tasks is to inject additional external industry and business knowledge into the University, and this is very much encouraged, which is great.
Finally, now that I work in the Management Division in Leeds, unlike at IBM, I have a (shared) office with my name on the door. It's in the Charles Thackrah Building. If you're ever in Leeds, let me know and pop in for a chat!