Video: The Festival of Ideas 2019
Research and innovation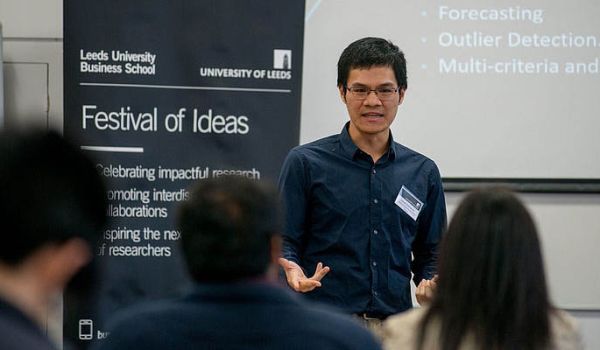 We were delighted to welcome nearly 100 guests to our Festival of Ideas 2019, held on Monday 8 April, with an attendance list comprising business practitioners, local government, and academics from across Leeds and other universities.
15 of our academics gave presentations on their current research highlighting areas where they saw potential for research collaboration. These talks were followed by discussions with audience members, with the aim of developing research networks and future collaborative research projects.
The Opening Plenary was a brilliant example and celebration of a current collaborative partnership, with presentations from Dr Jo Ingold (Leeds University Business School), alongside Ben Hepworth and Richard Bridge from the Department for Work and Pensions. This session was followed by four breakout sessions on: technology and digital disruption; communication and behaviour; the human side of technological innovation; and finance at a global and local scale. The day came to a close in the new Nexus facilities, with a presentation given by Nexus members on international collaborations between academia and industry.

We are pleased to see that conversations initiated at the Festival have since continued and progressed between our academics and the attendees.
You can watch videos of the Opening and Closing plenaries on the Business School's YouTube channel. The below video features some of the event's speakers from the Business School (Dr Jo Ingold, Professor Krsto Pandza, Dr Rebecca Pieniazek, Dr Yi-Chun Ou, and Dr Arpita Bhattacharjee) and one of the delegates, Mihaela Gruia, Founder and Director, Research Retold, discussing the day.
You can also view photos from the event on our Flickr account and see some of the conversations taking place on Twitter about the Festival of Ideas using the #IdeasLeeds hashtag.

If you have any suggestions as to how we can plan future Festivals to best serve your needs as collaborative scholars or businesses interested in partnering with us, or if you'd be keen to participate in future events, please contact the Research Office (research.lubs@leeds.ac.uk).
Contact us
If you would like to get in touch regarding any of these blog entries, or are interested in contributing to the blog, please contact:
Email: research.lubs@leeds.ac.uk Phone: +44 (0)113 343 8754
The views expressed in this article are those of the author and may not reflect the views of Leeds University Business School or the University of Leeds.