Mark Butterick MA, CFCIPD, CMgr FCMI, FHEA, FRSA, CMBE
Position: Lecturer in Human Resource Management & Management Consulting
Areas of expertise: Human Resource Management, Management Consulting, Strategic HRM, Project Management, Employment Law, People Analytics, Reward Management, Pay Structures, Performance Management & Employee Motivation
Email: M.C.Butterick@leeds.ac.uk
Phone: +44(0)113 343 1708
Location: 2.11 18-26 Lyddon Terrace
Profile
Mark has worked in operational management and senior HR roles for over twenty years. He has managed large teams of direct/indirect employees and subject matter experts both as an operational manager and, for many years, as an HR and employment law professional. He has worked across the UK and internationally delivering challenging, complex human capital consultancy roles and projects.
He has worked in operational management, senior HRBP, Head of HR, HR Director and consultancy roles for many prominent organisations including: Compass, Wickes, Veolia, Xchanging and Royal Mail Group. At Royal Mail Group Mark successfully managed all strategic HR activity for the largest IT outsourcing programme ever undertaken by the organisation. He has provided strategic HR support to headcounts of many thousands, managed budgets in excess of £14 miliion and advised extensively at executive board level.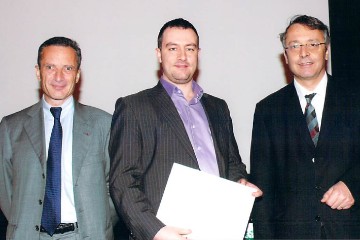 Mark has received a number of prestigious awards during his career. Including in 2006 when he received a Certificate of Individual Achievement from Henri Proglio, Chairman and CEO of Veolia at The Law Society in London. He was also winner of the Interserve Divisional People Development Award in 2011 after successfully delivering a broad spectrum of strategic organisational development projects that generated significant commercial benefits.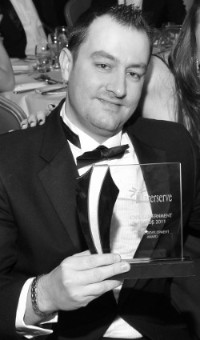 In terms of professional qualifications Mark successfully completed a BA (Hons) in History at the University of Central Lancashire in 1999 and a Masters degree (MA) in HR and Employment Law at the University of Leeds in 2005. He then qualified as a HR Practitioner at the University of Huddersfield in 2006 where he was admitted as a Certified Chartered Member of the Chartered Institute of Personnel and Development (CIPD). After a further six years working in senior HR roles Mark was subsequently admitted as a Chartered Fellow of the CIPD (CFCIPD) in 2011.
Mark is PRINCE2 qualified at both foundation and practitioner level, NEBOSH level 3 qualified and a fully qualified DISC psychometric practitioner. He holds a Group Training Certificate from the Chartered Institute of Environmental Health, Associate Membership of the International Institute of Risk and Safety Management (AIIRSM) and Technician Membership of the Institute of Occupational Safety and Health (Tech IOSH).
In 2012 Mark became an independent HR Consultant and Project Director. This led to the creation of Reach Higher Human Resources™, a concept that he developed in to a limited company and a business that now enjoys a proven track record of successful project delivery and client satisfaction. In addition to providing specialist consultancy expertise to many private clients across various sectors, RHHR™ has also provided pro bono expertise to a variety of charitable organisations. Mark also volunteered as a mentor on the CIPD's Steps Ahead initiative and assisted with the national roll out of this groundbreaking project.
In 2015 Mark began his complementary career as a Lecturer in Reward Management, Pay Structures, Performance Management and Employee Motivation at Bradford University School of Management. In 2016 he was subsequently invited to become Lecturer in Employment Law to MSc postgraduates at Loughborough University, where he was the Course Leader at the School of Business and Economics. Mark designed, wrote and then developed this fully CIPD accredited course as a new subject at the university and experienced a threefold increase in student numbers during the first three years of delivery.
In 2019 Mark successfully completed a Postgraduate Certificate in Academic Practice at Loughborough University during which he was rated as an outstanding university lecturer in all of his summative assessments. Upon completion of PGCAP he was also admitted as a Fellow of the Higher Education Academy (FHEA). In 2019 he also joined Leeds University Business School and the Centre for Employment Relations Innovation and Change (CERIC) as a Lecturer in Human Resource Management & Management Consulting. These subjects are taught at both undergraduate and Masters level and are CIPD and CMI accredited respectively.
In 2020 Mark was admitted as a Fellow of the Chartered Management Institute (FCMI) and began learning Mandarin Chinese at the University of Leeds Business Confucius Institute.
In 2021 Mark was admitted as a Fellow of the Royal Society for the Arts, Manufactures and Commerce (FRSA). He was also invited to join Leeds University Business School's Pedagogic and Enhancement Committee as the representative of the Work and Employment Relations Department.
In 2022 Mark became Course Leader for LUBS0060 Introduction to HRM. This module provides students with insight into some of the key issues in HRM, including recent innovations in thinking and practice, social diversity and the management of Human Resources in an international environment. Mark also began lecturing on module LUBS5761 Strategic HRM and Talent Management, part of the University's MBA programme.
In 2022, in acknowledgement of his extensive experience as a lecturer in higher education, Mark was admitted as a Certified Management and Business Educator (CMBE) by the Chartered Association of Business Schools.Mark also acheived a 100% pass rate for the fourteen MSc Management Consulting dissertations he supervised with an overall average mark of 68% and six students achieving distinctions. One of Mark's supervisions also won the prize -sponsored by the Chartered Management Institute- for the highest overall score of all dissertations submitted.
In 2023 Mark joined the Oxford Strategic Mananagement Executive Programme delivered by Said Business School at the University of Oxford. Mark also received a certificate of personal achievemernt from the publisher Wiley for the article "HRM and the Covid-19 pandemic: how can we stop making a bad situation worse?", which he co-authored with his colleague, Professor Andy Charlwood. Wiley acknowledged this work as one of the most frequently cited and downloaded publications between 2021 and 2022 in the Human Resource Management Journal.
In 2023 Mark was admitted as a Chartered Manager Fellow (CMgr FCMI) of the Chartered Management Institute.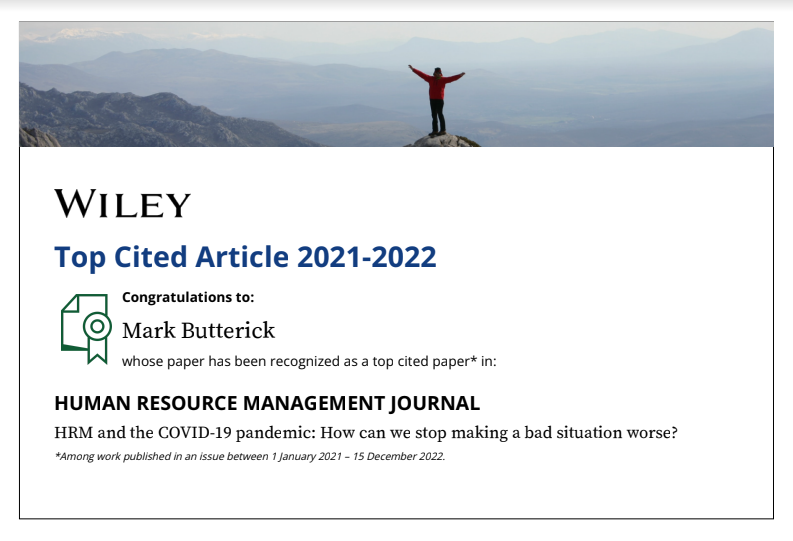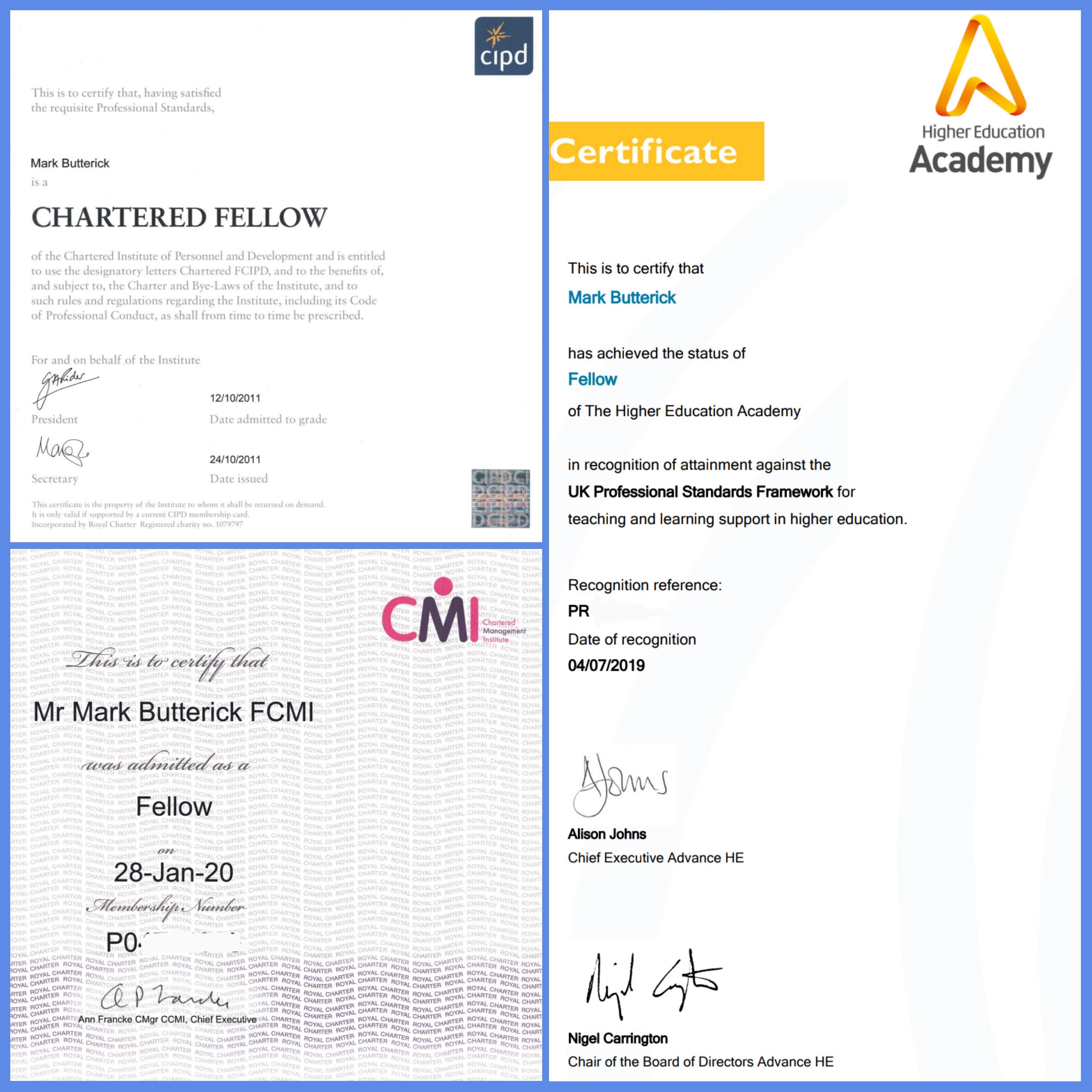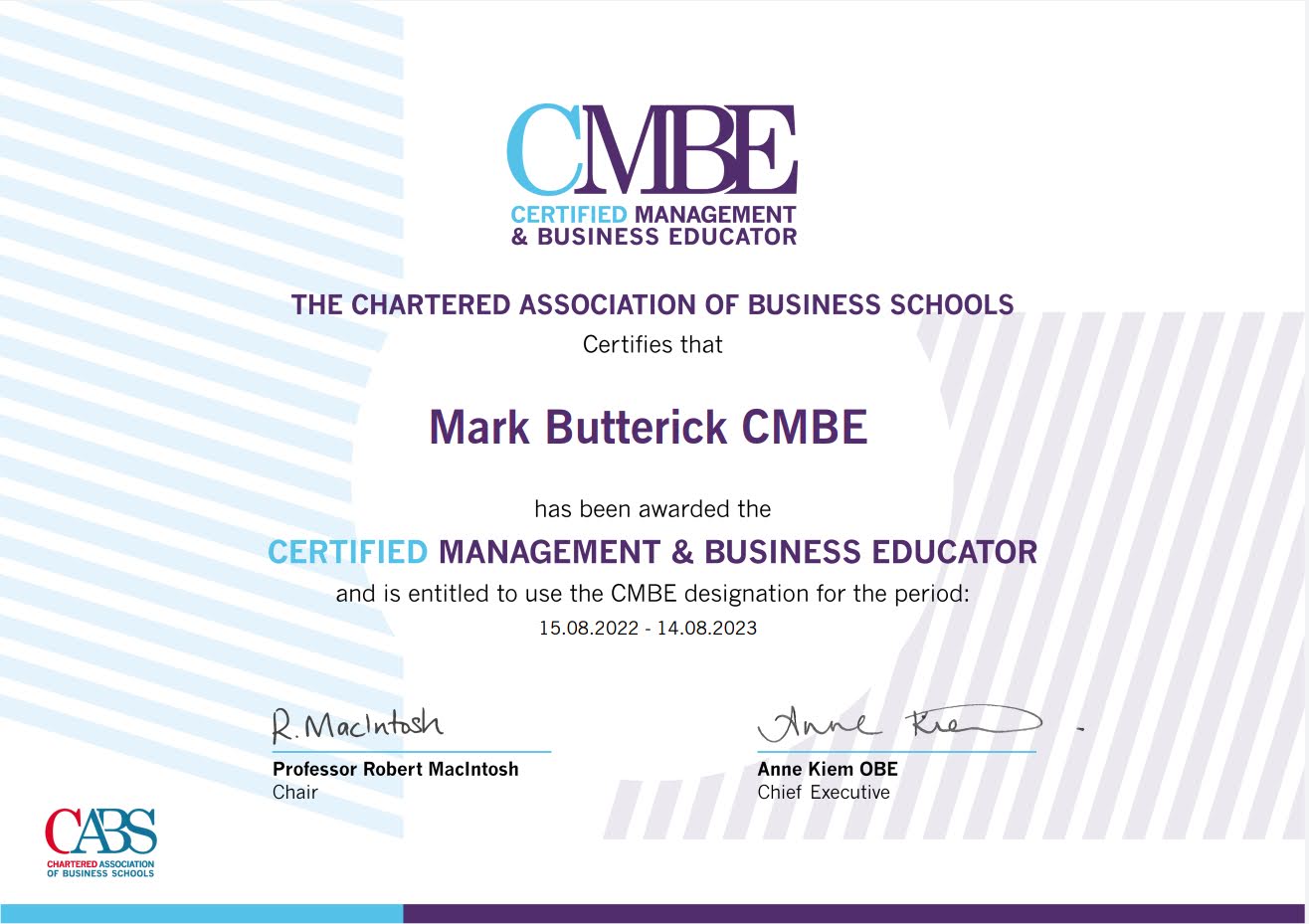 Responsibilities
Course Leader and undergraduate, MA & MSc postgraduate lecturing and teaching
Dissertation supervisor (under and postgraduate)
Personal and pastoral tutor, FPEG departmental representative
Research interests
Economic democracy
Communication strategies and organisational effectiveness
Employee engagement, motivation and productivity
Employment law
Workplace ethics and equality
Equality, diversity and inclusion
Social mobility
Publications
Non Published Research
Racism and the Social and Cultural Impact of Black Footballers (BA (Hons) History, UCLan, 1999)
Communication and Workers' Cooperatives: A Case Study of Suma Wholefoods (MA HRM, University of Leeds, 2005)
Qualifications
Strategic Management Executive Programme, University of Oxford
Post Graduate Certificate in Academic Practice, University of Loughborough
Certified Chartered MCIPD, University of Huddersfield
MA Human Resource Management, University of Leeds
BA (Hons) History, University of Central Lancashire
Professional memberships
Certified Management and Business Educator
Chartered Fellow of the Chartered Institute of Personnel and Development
Fellow of the Higher Education Academy
Chartered Manager Fellow of the Chartered Management Institute
Fellow Royal Society of the Arts, Manufactures and Commerce
Associate Member of the International Institute of Risk and Safety Management
Technician Member of the Institute of Occupational Safety and Health
Certified NEBOSH Practitioner
Certified PRINCE2 Practitioner, Axelos
Certified DISC Psychometric Personal Profile Assesement Practitioner, Thomas International
Student education
Mark's teaching specialisms are Human Resource Management and Management Consulting. These subjects are taught by Mark as key components of both the BA and MA in Human Resource Management, the MSc in Management Consulting and the Masters in Business Administration (MBA). In addition to lecturing and teaching responsibilities Mark is also a personal tutor, dissertation supervisor and member of the Work and Employments Relations Department (WERD) academic team. He is also the representative of WERD on the Leeds University Business School Pedagogic and Enhancement Committee.
Modules that Mark has lectured, supervised or lead include:
Undergraduate
Postgraduate
Selected Student Feedback
"I had the pleasure of being taught by Mark in a Facts, Theories, and Issues of Management Consulting module during my Management Consulting MSc at the University of Leeds. Mark always encouraged engagement through the module, by voicing and positively challenging opinions everyone was able to build a deeper understanding of what we could expect from future employment and how to approach the challenges that the industry faces. Mark has an ability to clarify the most complex theory by providing real world examples, explaining the theory and outcomes of its application. I was also extremely fortunate to have Mark as my personal tutor, who not only supported me through academic work, but was available for personal support in the transition from undergraduate to postgraduate studies. Mark goes above and beyond for his students and cares about their successes through their studies, but most importantly beyond their studies as well. Mark is an exceptional tutor and mentor." -Postgraduate Student in MSc Management Consulting, University of Leeds
"Mark lectured me in Contemporary Management Consulting in my final year at University of Leeds.Mark is an exceptional lecturer who managed to engage with the cohort despite challenging COVID-19 difficulties. His clarity of communication and explanation of concepts were some of his finest feats, only being surpassed by his willingness to help over and above what is required. He assisted me on multiple occasions with extremely detailed career advice and took time out of his day to assist in any way he could, both on the module and extracurricularly. It has been a pleasure engaging with Mark and I hope our working paths cross again." -Postgraduate Student in MSc Management Consulting, University of Leeds
"I had the privilege of having Mark as one of my academic tutors for my MSc degree in Management Consulting. His consulting expertise and excellent teaching skills enabled me to deepen my understanding of management consulting and it's related issues. Mark's willingness to further engage with students beyond class periods to share his experiences as a consultant and to offer valuable career advice to students looking to enter the field was very admirable, to say the least. There is certainly no doubt about his expertise and commitment to his work." -Postgraduate Student in MSc Management Consulting, University of Leeds
"Mark is approachable and reliable teacher specialized in human resource management and consulting. It is my pleasure to have him being my lecturer and supervisor in this academic year. I am so touched by Mark for his continuous update during the lockdown and keeping touch with students. I believe students would enjoy working with him." -Postgraduate Student in MSc Management Consulting, University of Leeds
"I was a student of Mark at one of his modules on Employment Law. Mark is a gifted teacher who made us all awe with his skills and knowledge in law. He made us so involved by listing different cases with examples to make us understand the concept of law. Most of us were new to Law and he was quite patient in clearing it up. He even made us regret not taking up Law as a module. His teaching was so powerful, I am sure it made a mark on everyone's lives. I am happy I got a chance to listen to him. I recommend Mark for all Employment Law and consultancy related training work. I am sure you cannot go wrong there." -Postgraduate Student in MSc HRM & Employment Law, Loughborough University
"Mark taught our postgraduate employment law module at Loughborough University. He made a very technical and content heavy course exciting to learn but also easy to understand by applying it to practical situations! His teaching methods of class reviews at the beginning of each day allowed for engagement and thorough understanding. Furthermore case studies throughout each class allowed us for case analysis alongside understanding employment law. This helped us understand the way employment law works in real work scenarios and how it can be applied to our human resource degree. A massive thank you to Mark for making a very intensive course so interesting and fun to learn, it would be an absolute pleasure to meet Mark again in the future!" Postgraduate Student in MSc HRM & Employment Law, Loughborough University
I am glad to write this recommendation about Mark. Although Mark is a hard worker and was able to run long hours of lectures, literally, each lecture exceeded continuous seven hours per day, his enthusiastic and welcoming character encouraged all student to ask and participate actively in the classes. On top of that, his wise knowledge and extensive experience strengthened his skills in transferring knowledge clearly and confidently. He was structured and never hesitated to provide guidance or support to all students. I really enjoyed his classes and looking to meet with him in other occasions. I wish him all the best of luck in life and career. Postgraduate Student in MSc HRM & Employment Law, Loughborough University
"Mark is a very pragmatic lecturer and a very likeable professional with a broad knowledge of HR and Employment Law. I was fortunate to have had him as my lecturer during my Masters programme at Loughborough University. Unlike the many lecturers I have had to work with, Mark has a unique style of engaging with his student and challenging them to think sequentially and analytically when it comes to the interpretation and application of the Employment Law. I have gained a wealth of knowledge from this gentleman and I am happy to recommend him to anyone or organisations that with to employ his expertise. I wish you all the best in your future endeavours." Postgraduate Student in MSc HRM & Employment Law, Loughborough University
"I met Mark at Loughborough University. He was invited to lead and deliver a lecture on Employment Law module for MSc students. From what I witnessed, Mark possesses a great deal of professionalism and keeps himself up to date with the latest developments [and precedent cases] concerning the UK Employment Law. He has been able to explain sophisticated topics in layman's terms and draw analogies with a myriad of real-life cases that he as a professional encountered or dealt with. As the MSc HRM Programme Representative at the time, overall I believe Mark has been a great asset to the university, and to my class in particular. Recomend!!!" Postgraduate MSc Student in HRM & Employment Law, Loughborough University
"As a former student of Mark, I can really say he brought the complex world of HR together by giving a holistic view of how HR can operate in any organisation and also, going into detail when needed to paint a clear picture. Significantly, I enjoyed attending his classes because he always brought in real-life examples to his teachings and was very helpful and happy to dedicate some time for further understanding. Mark is a professional individual that knows what he's talking about and his various experiences demonstrate just that". Final Year BA Student in HRM, University of Bradford
Selected Colleague Feedback
"I love working with Mark, astute, caring and professional. We work teaching and supporting LUBS Management Consulting students to develop their critical thinking skills in both theory and practice and Mark leads by example." -Former Programme Director and Lecturer in Work and Employment Relations
"I have worked with Mark at Leeds University Business School over the past year and have found him an extremely collaborative, supportive and engaging colleague. His teaching and consultancy expertise in particular have provided considerable added value for students and the teaching team at Leeds. It has been a pleasure working with him." -Programme Director in HRM and Lecturer in Management Consulting
"An outstanding teacher and a great colleague - it has been a pleasure working with Mark and I would definitely commend his work in the highest terms." -Professor of HRM
"Mark is a consummate professional in everything he does. His command of his subject areas is second to none and he has shown the utmost dedication to his teaching. He provides a stimulating learning experience and is extremely popular with students. As a colleague he is a great team player, always ready to bring fresh ideas and invaluable support when needed. He has a creative approach to finding solutions to even the most intractable problems, and always manages to remain good humoured and positive whatever the circumstances. It is pleasure and a privilege to work with him." -QC and Lecturer in Employment Relations and Employment Law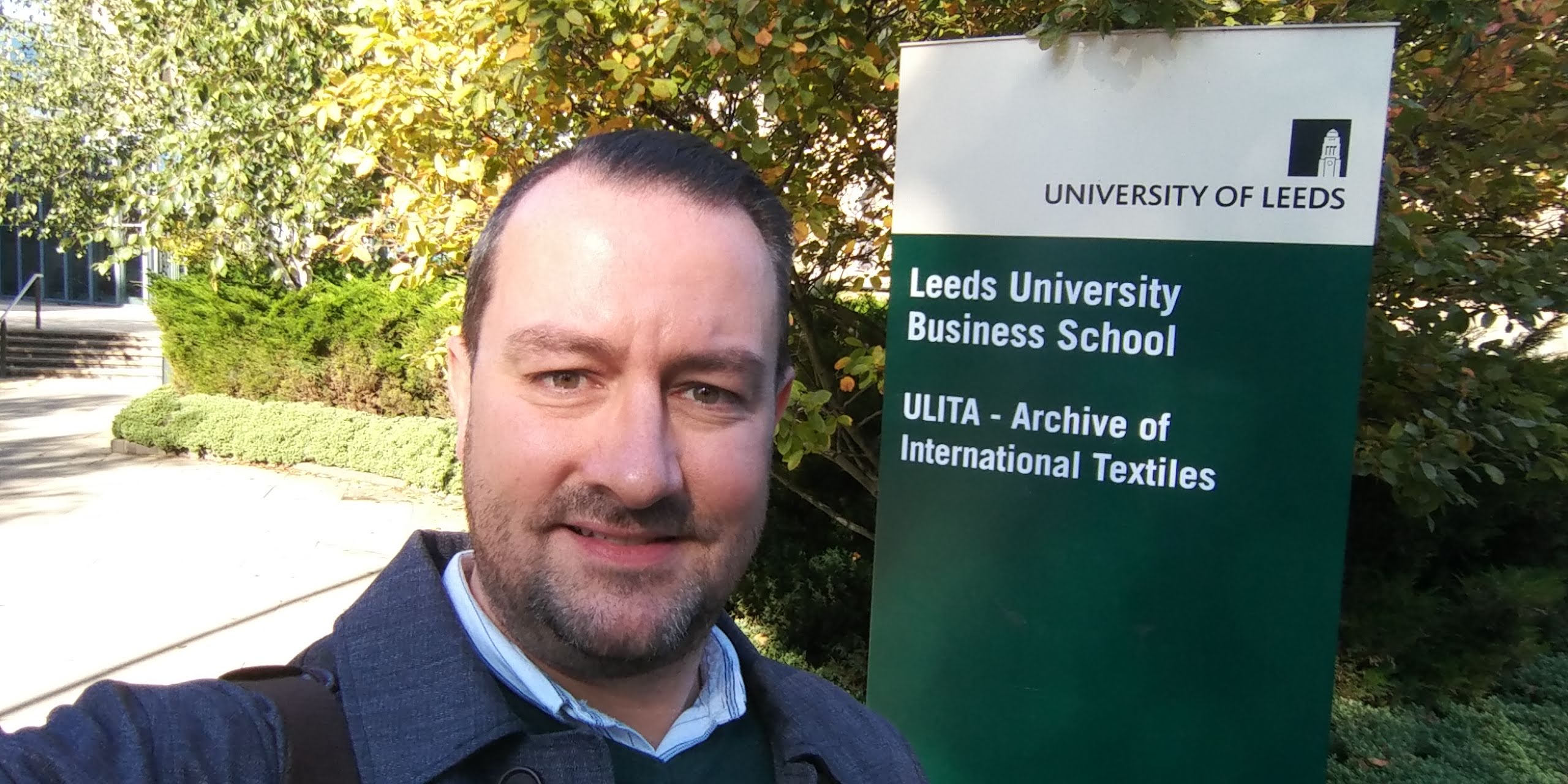 Mark Butterick
MA (Leeds), AIIRSM, Tech IOSH, PRINCE2, Chartered Fellow CIPD, Fellow HEA, Chartered Fellow Manager CMI, Fellow RSA, PGCAP (Loughborough), CMBE