My international summer internship experience in India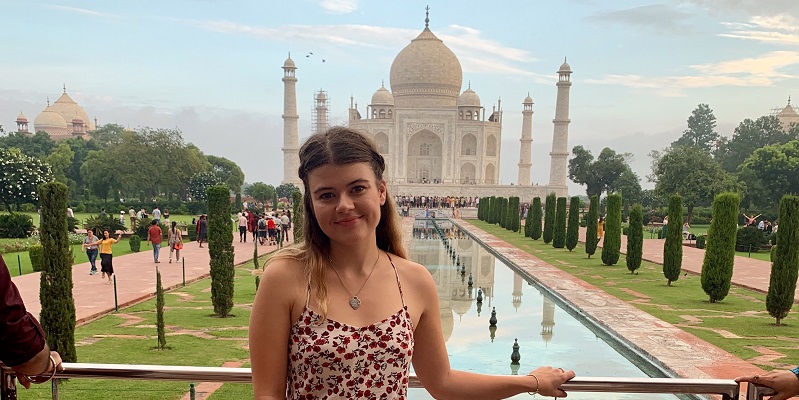 Third year Management student Bethany Waas writes about her formative summer internship in India at MG Motors.
Hello, I am a third-year Management student at Leeds University Business School. I have recently returned from a two month internship in New Delhi, India with the Company MG Motors. There, I spent a week in training at the headquarters and then spent the remaining time working in an assigned showroom in a direct marketing role, which involved explaining about the car and the company's brand history to the Indian consumers. MG Motors was launching its first car in the Indian market, so it was exciting to be there for the launch. The internship taught me a lot about cultural differences and how important they are in business.
Previously in the Easter holidays, I took part in a three week volunteering trip with Leeds RAG in India, where I developed a strong passion for the country. So, when I saw the job on Target Jobs I instantly knew that this was the perfect role for me and would be an exciting opportunity to get some work experience in a subject that I am passionate about. The application was straight forward: I had to submit my CV along with a cover letter. I then had an informal interview with a British recruiter, and was put forward for a skype interview with two Indian recruiters in New Delhi. I then got the email saying that I was selected for the job! I was one of ten interns from different universities across the country.
Although I initially knew no one, I made so many great friends; especially the local employees in the showrooms, who were very welcoming and friendly. During the internship, I got the chance to experience lots of different things. For example, I featured in a promotional video for the Internship 'MG Bridge' which was released on all of their marketing channels. We were also flown to their manufacturing plant in Gujarat, where we saw the production process and assembly of the cars, which was fascinating. I also experienced the Indian workplace culture: everyone brought in different dishes in for lunch and we all shared them. I was also invited to people's homes for meals with their families, allowing me to become immersed in their cultures. I also got involved with the different religious festivals, which we celebrated all together in the showrooms.
The internship taught me a lot about Indian culture. Personal relationships are highly valued, and it was also very important in sales to have a cup of chai tea with the customers to be able to establish trust. Not all customers were fluent in English, so I learnt a lot about communication, especially non-verbal communication; good body language is universally understood! It also gave me a chance to try and learn Hindi as a new language. I was prepared with the skills I had learnt in my Developing Your Potential modules about intercultural competencies and intercultural teams. Also, through my Managing International Business modules, I was aware of the differences when working in an international company and how to be considerate to the different cultures.
Because of this experience I have a lot more confidence in myself, and I now feel that I can sell myself a lot better in future interviews. This internship has truly cemented my passion for International business; therefore, I am planning to write about internationalising a brand for my dissertation. I plan to secure a graduate job when I finish university or maybe work abroad and discover a different culture.
Some words of advice I would give others when looking for work experience is don't give up! I got the internship in June and when I was close to giving up, but then I got offered this amazing experience. Another tip is to make sure you show your personality in interviews; personality can help you stand out from other candidates. Also, don't be afraid to try something new. I never thought I would have passion for a car company, as I didn't have a huge interest in cars. During my internship however, I realised I had a passion for the business, especially its marketing strategies and hype they created for their product.