Climathon Inspires New Ideas for Leeds
Centre for Enterprise and Entrepreneurship Studies
Participants at an event in Leeds came up with new solutions to reduce carbon emissions as part of a 24-hour global challenge to solve climate change. Students and stakeholders in Leeds joined citizens in world cities such as Paris and Shanghai simultaneously taking part in the hackathon-style Climathon event.
The Climate-KIC Climathon brought together major cities across six continents to solve city-wide climate challenges. In Leeds, 28 participants took part from 12 noon on 28 October until noon the following day and focused on an energy efficiency challenge set by Leeds City Council. It is was organised by the Priestley International Centre for Climate and partners from the University of Leeds at ODI (the Leeds node of the Open Data Institute).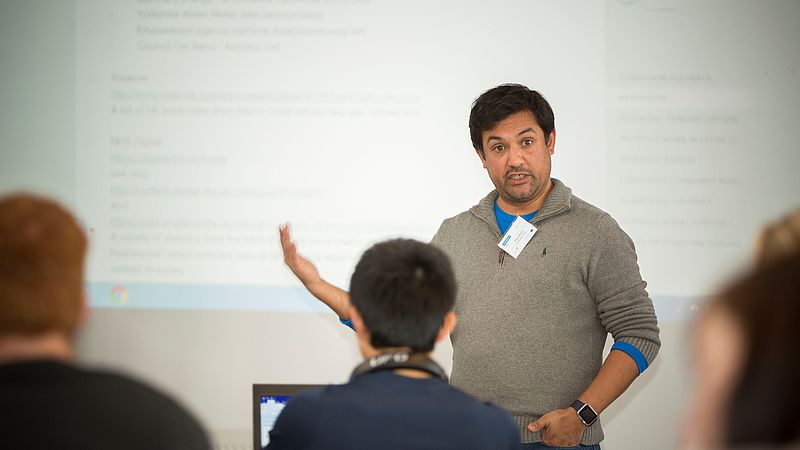 Dr Pablo Munoz at the Climathon event.
Dr Richard Tunstall, Lecturer in Enterprise at Leeds University Business School, was one of the originators of the Leeds event on the organising committee, as well as facilitating teams throughout the Climathon with Dr Pablo Munoz, Lecturer in Entrepreneurship at the School of Earth and Environment. Richard and Pablo supported students with the entrepreneurial aspects of their ideas and helped them develop viable business models.
Dr Andrea Taylor, a University Academic Fellow in the Business School and the School of Earth and Environment, also took part in the event, acting as an expert coach. This involved providing insights into environmental behaviour based on her research and then working with the groups to consider how these insights could feed into their projects to enhance potential real-world impact.
After working through the night, four teams stayed the course to present their ideas to the judging panel of Piers Forster, Director of the Priestley International Centre for Climate, Tom Knowland, Head of Sustainable Energy and Climate Change at Leeds City Council and Mark Taylor from the University's student start-up service, SPARK. The winning team, "Project Revolver", developed a solution to retrofit current housing stock in Leeds, financed through a revolving fund and repaid under a "Council tax premium adjustment".
Jamie Brass, who was part of the two-person team with postgraduate researcher Nick Roxburgh, works part-time as Environment and Sustainability Officer at Bradford City Council while studying for a Masters degree in Climate Change and Environmental Policy at the University of Leeds. "I hope our work will start a renewed conversation on the need to improve domestic energy efficiency, and how it can be done," he said. "I would particularly welcome urgent measures for those households experiencing fuel poverty."
Colleague Nick Roxburgh added: "If it proves to be viable, it would be incredible to see our idea implemented. At the same time as helping to reduce the carbon footprint of the city's housing stock, it could improve the living standards of Leeds residents, and create a legacy – in the form of the endowment fund – from which future generations of Leeds citizens could benefit."
The event was introduced by Councillor Lucinda Yeadon, Deputy Leader of Leeds City Council and Executive Member for Environment and Sustainability. Council officer Tom Knowland, who set out the problem Leeds City Council faces with trying to reduce carbon emissions from its domestic housing sector following the collapse of the Green Deal, was enthusiastic about the winning team's solution.
"I was impressed by the creative thinking shown by all teams, particularly considering they had not had any sleep for 24 hours! We will be reporting the results from all teams within the Council and would be interested in developing and testing the Project Revolver solution further with the Leeds Committee on Climate Change."
The global event, the second of its kind, was organised by Climate-KIC, the EU's climate change innovation partnership of universities, businesses and the public sector.
The challenge: How can we deliver domestic carbon reduction in an age of austerity?
The challenge was for participants to come up with alternative ways of approaching and financing energy efficiency measures in the housing sector. Following the removal of policies to boost uptake, innovative new business models are needed to ensure energy efficiency fulfils its potential to create carbon savings and cost savings for the city of Leeds.
A third of Leeds' carbon emissions are due to domestic energy consumption, which contributes substantially to GDP loss to the city. Although Leeds City Council has been successful in attracting funding for efficiency measures in the past, recent national policy changes mean these are no longer cost effective.
The council was keen to examine the potential of a revolving fund, which captures and reinvests savings, as well as new initiatives to maximise householder participation and novel solutions for improving energy efficiency, especially in the private rented sector.
Solutions save money and create warmer homes
The winning idea was chosen because it was the best fit with the brief and took a pragmatic but creative approach to funding energy efficiency. Project Revolver's solution adopted a "city endowment" fundraising approach, reducing new capital investment needed by half while achieving required £1.3 billion overall investment, saving 13 Mt carbon dioxide by 2050.
The model builds on the concept of a revolving fund for accelerating the implementation of measures that reduce the energy use and carbon footprint of the Leeds housing stock, originally developed by Professor Andy Gouldson and his team at the University of Leeds. Initial capital would be developed through a number of funding sources, including an endowment fund, inspired by examples from higher education.
The funds would be allocated through a Local Green Investment Bank to projects in the Leeds City Region. Participating homes would have a premium added to their council tax – equivalent to less than the total energy saving the household is estimated to benefit from – meaning the occupants face no negative financial implications and have warmer homes. The council tax premium is then passed on by the local council to the local green investment bank, which will then reinvest the funds in further retrofitting.
A further benefit would be that at the end of the 20-year period of the scheme the city would be left with an endowment offering a perpetual source of money for community and environmental initiatives in the city.
"The bequest could become a permanent legacy – a bequest that could benefit generations of Leeds City Region residents in the decades to come," said Project Revolver's Nick Roxburgh. "In Leeds we have a lot to be proud of and a lot of brilliant citizens whose home pride and desire to see the city socially and environmentally bright future is waiting to be tapped into."
All four teams came up with innovative ideas for addressing the issue, including using non-invasive smart metering of appliances to control household energy usage, linking energy consumption with peaks in renewable energy output and a green savings account, the deposits of which would be invested in improving the energy efficiency of rented homes, producing a win-win for tenants, landlords and small investors.
Judge Piers Forster said: "I was amazed that in only 24 hours the teams came up with credible solutions for the Leeds City region that will hopefully go on to have a demonstrable impact on our lives. It was also great to see the University and City working together with such enthusiasm, linking up with 59 cities around the world as part of an important international effort on climate change."
Business advisor Mark Taylor was equally impressed at the range of ideas produced during the hackathon. "Climathon Leeds has been fantastic event, taking place over just one day and giving people the chance to make positive differences that if implemented will last for generations."
Contact us
If you would like to get in touch regarding any of these blog entries, or are interested in contributing to the blog, please contact:
Email: research.lubs@leeds.ac.uk Phone: +44 (0)113 343 8754
The views expressed in this article are those of the author and may not reflect the views of Leeds University Business School or the University of Leeds.