Nurturing Talent Mentor Scheme Annual Celebration 2018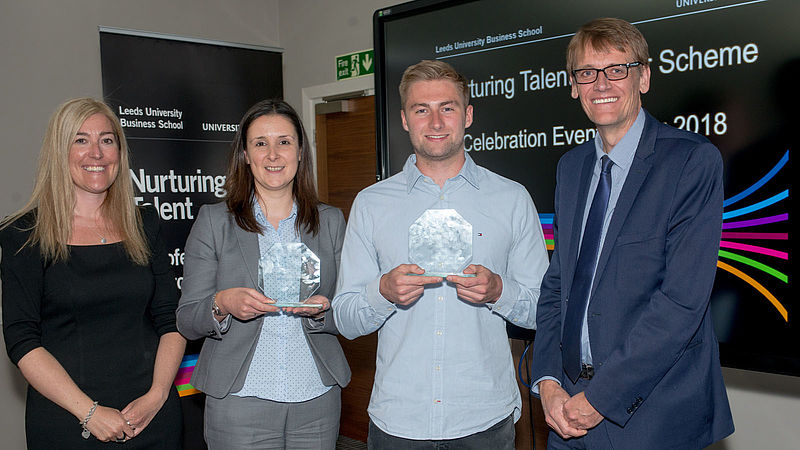 The Nurturing Talent Mentor Scheme held its annual Celebration Event on Wednesday 9 May to mark another successful year of the scheme.
Now in its sixth year, the mentoring scheme connects professionals from industry to students from the business school.
The event saw mentors and mentees gather at University House to celebrate the success of the programme, share experiences, network with one another and find out who had won the award for 'Mentee of the Year' and 'Mentor of the Year'.
As part of the event, presentations were given by both mentors and mentees. Claire Needham, Director at KPMG, Leeds and Jasmeet Narang, Government and Control and Client Management Director at Santander Operations both spoke about their experiences of being a mentor on the scheme. Both mentors talked about the mentoring relationship being a two way partnership and how encouraging it was to see the development in their mentees throughout the year.
Current students, Ellie Stroud and Niall Cameron, gave presentations about their involvement in the scheme as mentees. They highlighted how their mentors had supported them with enhancing their employability skills as well as giving advice on career direction. Both also credited their mentors with opening up their own professional network to them and for being a source of support and encouragement during the year.
'Mentee of the Year' was awarded to Economics student, Matthew Walker, who said, on winning the award "I was delighted to be awarded 'Mentee of the Year'. The advice and guidance I have received from my mentor has been essential to my future career planning and it has been a fantastic benefit to me this year being on the scheme and having a mentor." Matthew was nominated by his mentor, Sam Tasker Grindley from GBAC who commented "I really believe Matthew is deserving of this award for his hard work, dedication and enthusiasm and because he is a superb ambassador for the University and the scheme itself."
'Mentor of the Year' was awarded to Victoria Winn from Advanced, who was nominated by her mentee Danielle Rowen. Victoria, an alumna of the Business School and a mentor on the scheme for two years said "I was really proud and surprised to have won this award. It is important for me to be a mentor as I want to share my experience and insight of the marketing world and inspire the next generation. I am always proud of my mentees, past and present, as I see their careers progress and you always know you were able to help them at the start of their journey'"
Anna France who manages the Nurturing Talent Mentor Scheme commented "This year we have 200 mentors on the scheme and the event showed the impact that our fantastic mentors have on their mentees in terms of the support and opportunities they give them. The event also recognises the commitment, dedication and enthusiasm our students show to their mentor and the mentoring relationship. The scheme offers enormous value both to our students and to our mentors"
Photos of the event can be found here