Success in the 2019 AMBA Excellence Awards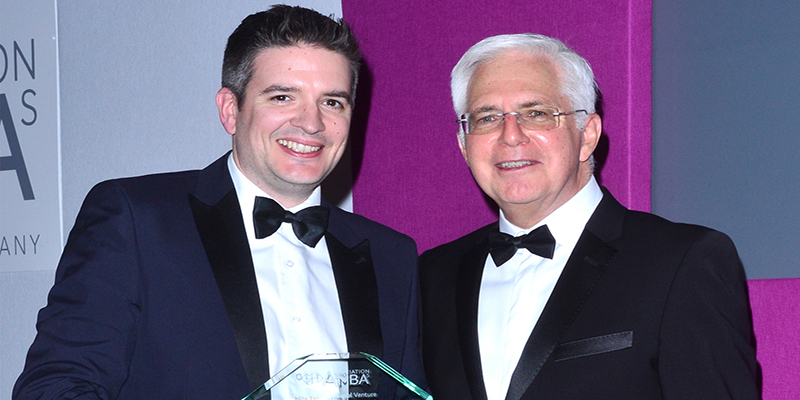 Two Executive MBA alumni were recognised for their entrepreneurial spirit in the 2019 AMBA Excellence Awards.
Nat Southworth, who completed his EMBA in December 2018 was presented with the MBA Entrepreneurial Venture Award (private sector) for his toy business KAP Toys Ltd.
While completing his EMBA, he worked as a consultant for several businesses before setting up KAP Toys, which went on to acquire a toy company called Kids@Play. Nominated by his classmates as the 'student most likely to become a billionaire', Nat believes that to build a successful long-term business, there must be a focus on sustainable profit and patience. In 2018, Kids@Play launched the 'Real Talking Harry Potter Sorting Hat®', which has increased turnover significantly, and has helped mark the business out as 'one to watch' within the UK toy industry.
On winning the Award, Nat Southworth said:
'Thank you to AMBA and Leeds University Business School in particular for getting me through the MBA, which was really hard work while buying a company and doing a lot of hard graft to turn it around and make things happen. The Award makes a massive difference to my team.'
Aqila Choudhry (EMBA 2017) was also commended in the MBA Entrepreneurial Venture Award (third sector) for her Yorkshire based care and support company, Love in Care.
In June 2017, Aqila was awarded an MBE for Public and Political Service. Aqila has been very active in her local community, working in the social care sector for over 25 years. Her roles have included Chief Executive Officer, Non-Executive Director for a mental health and learning disability service Foundation Trust, Volunteers Manager, Trainer and many volunteering roles as Chair and Trustee of charities. She founded Love in Care in 2016, a care and support service for diverse communities with a variety of needs.