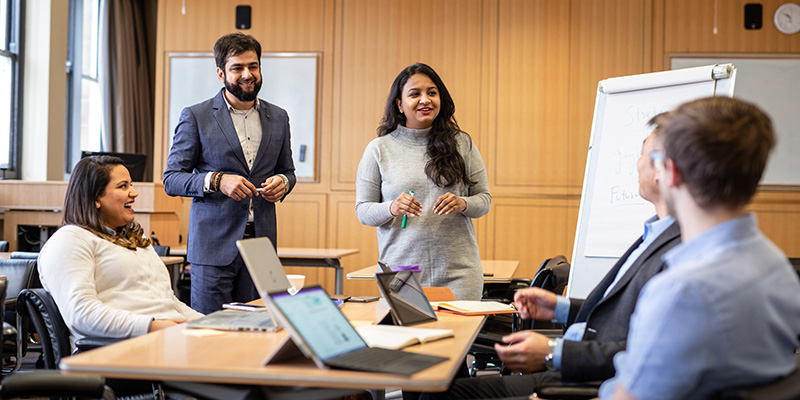 The MBA project is the culmination of your MBA course. The project provides you with an opportunity to apply the skills and knowledge that you have acquired to the resolution of a business problem, or to investigate an area that interests you further.
Your project can be organisation-based, desk research based or entrepreneurial in nature, depending upon your aims and ambitions. If you choose to complete an organisation-based assignment it is a great opportunity to work on a live management issue and to forge and develop links with employers and industry.
If you have ambitions to start your own company, the MBA project can be an excellent opportunity to compile a comprehensive business plan.
Our dedicated MBA project Manager will help you find, select and plan your project and will act as a liaison between you, the Business School and the host company.
Recent projects
The development of a strategic marketing plan within the NHS Foundation Trust
An evaluation of diversification strategies in the motor industry for TATA
Analysis of various ongoing projects for PriceWaterhouseCoopers Consulting
A study into re-engineering processes within the print management industry with Communisis
The specification of a Europe-wide pain management service for Pfizer Health Solutions
A study into CRM as an effective management tool with Leeds City Council
An assessment of the organisation's destination strategy with Jet2.com
An analysis of the retail market for Deloitte
The development of a marketing communications plan to speed the adoption of GP IT systems in Yorkshire
A new training process for entrepreneurs from disadvantaged backgrounds in Johannesburg, South Africa

Sanjukta Chatterjee
Full-time MBA
Firstly, I can now tie theory with practice and implement it in any task I put my mind to in the future. Secondly, I am a part of an invaluable network of colleagues and peers around the world. Last but not the least I have a world recognised degree from a reputed university which is known across the industry and adds value to my profile.
View Profile
Tosin Ibikunle
Full-time MBA
I have also successfully transferred the team working skills I acquired while working in several multi-national teams during the MBA to my teams at work. In terms of theoretical work, I have successfully applied several models taught during the MBA to projects at work
View Profile